This simple and easy slow cooker pot roast recipe is incredible. Looking for easy crockpot dinner recipes for the family? With just 4 ingredients, this is the BEST and also easiest pot roast ever!
A few years ago I discovered this Simple and Easy Slow Cooker Pot Roast, and I've been hooked ever since. It is hands down the BEST pot roast recipe ever!
I know what you're thinking: that's a pretty big thing to claim, having the recipe for the BEST slow cooker pot roast ever made. But I promise you: not only is this pot roast recipe insanely easy, but it's also the number 1 requested recipe my friends ask me for!
It doesn't get much easier than this crockpot pot roast recipe. Our family LOVES slow cookers! There's something about walking into your home at the end of a busy day to the aroma of dinner cooked and ready to go.
Bonus: this recipe can be made with a fresh OR a frozen roast, and the directions stay the same. This recipe is one of my go-to's, especially because it allows me to buy a large cut of meat when it's on super sale at our local grocery store, throw it in the freezer, and pull it out down the road.
This is the perfect comfort food for a cold night over a bed of mashed potatoes, or if you're like our family it's the easiest way to whip up a big batch of pork or beef for enjoying all week long any time of the year.
Love pork? Be sure to check out Brown Sugar & Garlic Pork Tenderloin for another quick and easy dish. Want another simple crockpot recipe? You'll want to make my The Easiest Mexican Crockpot Shredded Chicken Ever next time!
Note: Some links may be affiliate links. That means I may make a commission if you use my links to purchase, at no extra added cost to you! I only recommend products that I personally love and believe in. Full disclaimer here.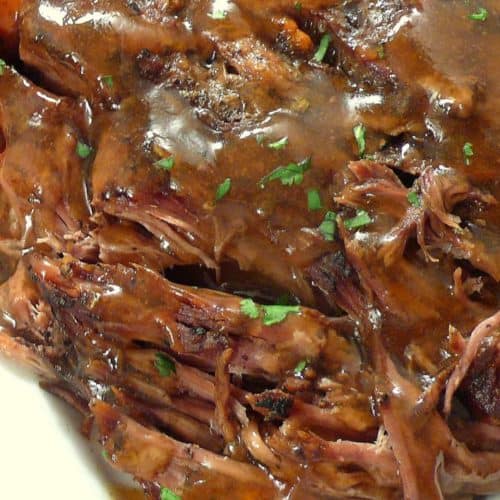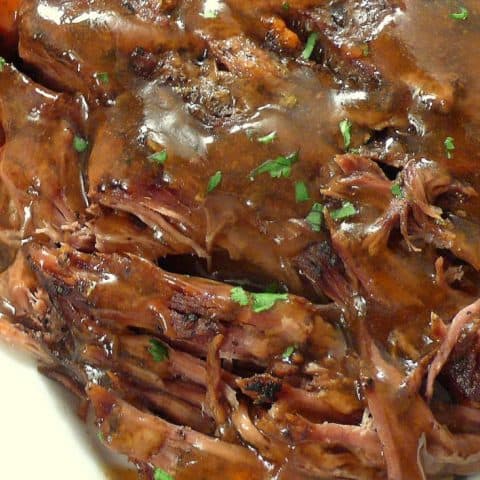 Easy Slow Cooker Pot Roast
Total Time:
8 hours
10 minutes
This simple pot roast is absolutely incredible. Just 4 ingredients: beef roast, ranch seasoning, Italian seasoning & brown gravy mix! The BEST and also easiest pot roast ever: if you can turn on a slow cooker you can master this recipe!
Ingredients
1 (4 -5 lb) beef or pork roast, any kind, fresh or frozen
1 (1 1/4 ounce) package brown gravy mix, dry
1 (1 1/4 ounce) package dried Italian salad dressing mix
1 (1 1/4 ounce) package ranch dressing mix, dry
1⁄2 cup water
1 tablespoon sea salt
1 tablespoon pepper
1/2 cup diced parsley for garnish (optional)
Instructions
Place beef roast in crock pot and sprinkle with sea salt and pepper.
Mix the brown gravy mix, Italian salad dressing mix and ranch dressing mix with the half cup of water and pour directly over the pot roast.
Cover and cook on low for 7-9 hours.
Serve over mashed potatoes (or, add red potatoes, carrots, mushrooms, celery and onion directly to the crockpot 2-3 hours before the roast finishes)
Notes
You can use literally any kind of beef or pork roast for this recipe! If you purchase a bone in roast, just be sure to remove the bone after it finishes cooking.
This is also a great recipe for cooking a large pork roast and then shredding it and tossing it in BBQ sauce for easy pulled pork!
Nutrition Information:
Yield:

8
Amount Per Serving:
Calories:

295
Total Fat:

9.7g
Cholesterol:

150mg
Sodium:

381mg
Carbohydrates:

2.6g
Protein:

49g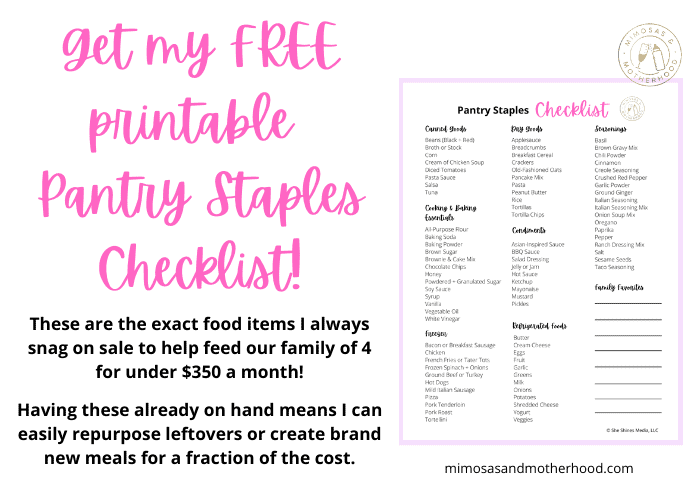 That's it! Seriously. This recipe is crazy easy and makes PLENTY for your family. It's also so easy to freeze and save for later =)
Tried this recipe? Tag me today! I love seeing what y'all are cooking up.
Mention @simply.siobhan or tag #MimosasAndMotherhood!