With our new little one due in a little over two months (and no, we can't believe he's going to be here this soon either!) I've been experimenting with new recipes and ideas to help make our lives with two under two a little bit easier while still eating healthy. I recently learned how to make a whole chicken in my Instant Pot, and I'm so excited to share it with you.
Anyone else guilty of living off delivery postpartum? I don't blame you! Those first few weeks and months can be exhausting, and if you're not planning ahead it can get really hard to stay on top of what you and your family are eating. This Quick & Easy Instant Pot Whole Rotisserie Chicken is here to help keep you on track, whether you're recovering from childbirth or just trying to create some easier meals!
Related: Super Simple Slow Cooker Shrimp & Grits
I received an Instant Pot two Christmas's ago, and it's been a game changer with our meal prep! I'm a huge fan of leftovers and repurposing into new meals, and being able to get a full dinner together in less time is a huge help.
(Slow Cookers are also my BFF and help us create easy leftovers for recipes like The Best Slow Cooker Pot Roast Ever Made) 
I've gotta be honest: the first time I heard that you could cook a whole chicken in an instant pot I was a little baffled and not sure how it would go. It turns out when you cook a whole chicken in the instant pot it actually turns out super juicy and full of flavor! Leftovers from this Quick & Easy Instant Pot Whole Rotisserie Chicken are perfect shredded into soup, lunches and other meal prep like enchiladas and pasta!
Note: Some links may be affiliate links. That means I may make a commission if you use my links to purchase, at no extra added cost to you! I only recommend products that I personally love and believe in. Full disclaimer here.
A few frequently asked questions I've gotten about the Instant Pot Rotisserie Chicken Recipe:
Does a Whole Chicken REALLY Fit in an Instant Pot?
Yep, you absolutely can cook a whole chicken in the Instant Pot! I recommend a 5-6 pound chicken, which should fit easily in both a six quart and an eight quart Instant Pot.
Is it Super Complicated to Prep It?
Nope. It's actually kind of the opposite. All you need is seasoned water, chicken stock or bone broth and assorted seasoning, along with the trivet that came with your pot.
How Long Does it Take to Cook a Fresh Chicken in the Instant Pot?
The recommended cook time for a fresh whole chicken is about six minutes per pound. For most of the birds you'll find in the store that will mean about 30 minutes should cook your chicken through.
Ok, But What if My Whole Chicken is Uncooked in the Middle?
First, don't panic! Chickens can vary in size which means that cook time can also vary. If your chicken isn't cooked all the way through after you finish the cook time in the Instant Pot, close your lid back up and cook your chicken for an additional 10-15 minutes. With how well the pressure cooker does with sealing in the juices, your chicken shouldn't dry out with this additional cook time.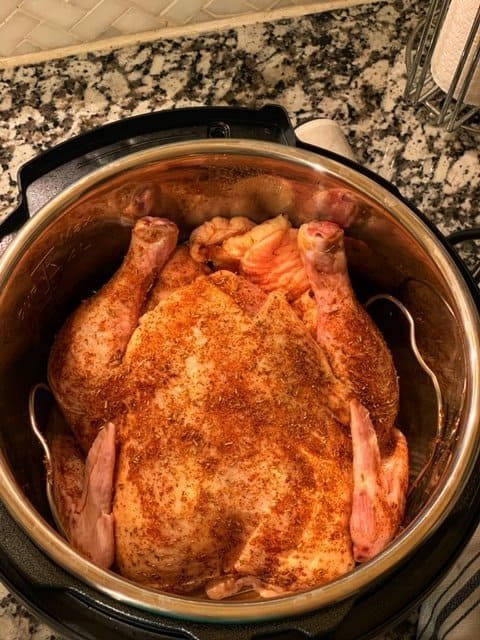 Quick and Easy Instant Pot Whole Rotisserie Chicken
Ingredients
5-6 pound Whole Fresh Raw Chicken
1 cup Bone Broth, Chicken Stock or water (I recommend bone broth)
2 Tablespoons Garlic Powder
2 Tablespoons Paprika
2 Tablespoons Creole Seasoning
1 Tablespoon Rosemary
1 Tablespoon Thyme
1 Teaspoon Salt
1 Teaspoon Black Pepper
Olive Oil
Instructions
First, check the inside of your chicken for any packets containing innards and remove if included. Rinse your chicken and dry with paper towels. Drizzle olive oil on the chicken.
Combine all of the dry seasonings into a small bowl. Sprinkle half of the seasoning mixture over the chicken, rubbing in with your hands. Be sure to also coat the "bottom" of the chicken in seasoning!
Add one cup of liquid (water, chicken stock or bone broth, your choice) to the Instant Pot, and stir in the other half of the seasoning.
Put chicken on a trivet with handles and lower into the Instant Pot.
Close lid on Instant Pot and turn pressure valve to seal.
Set for a manual high time of 30 minutes (6 minutes per pound). Instead of a quick release, allow for a natural pressure release of 15 minutes before opening the lid and releasing any remaining pressure. DO NOT do a quick release of the pressure or your chicken will be dry!
After your chicken is thoroughly cooked in the Instant Pot, the skin will not be crispy. If you prefer more a crispy finish, I recommend transferring your chicken to a small casserole dish and popping under your broiler for 5-10 minutes to finish.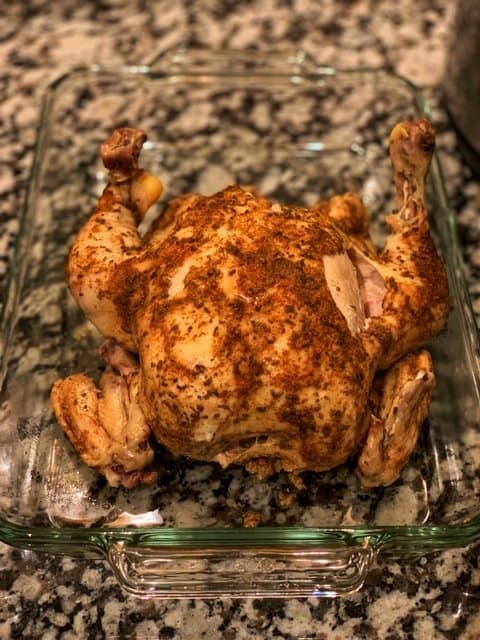 This Quick & Easy Instant Pot Whole Rotisserie Chicken doesn't get much easier, and I'm so excited to throw this recipe into our rotation!
Tried this recipe? Tag me today! I love seeing what y'all are cooking up.
Mention @simply.siobhan or tag #MimosasAndMotherhood!