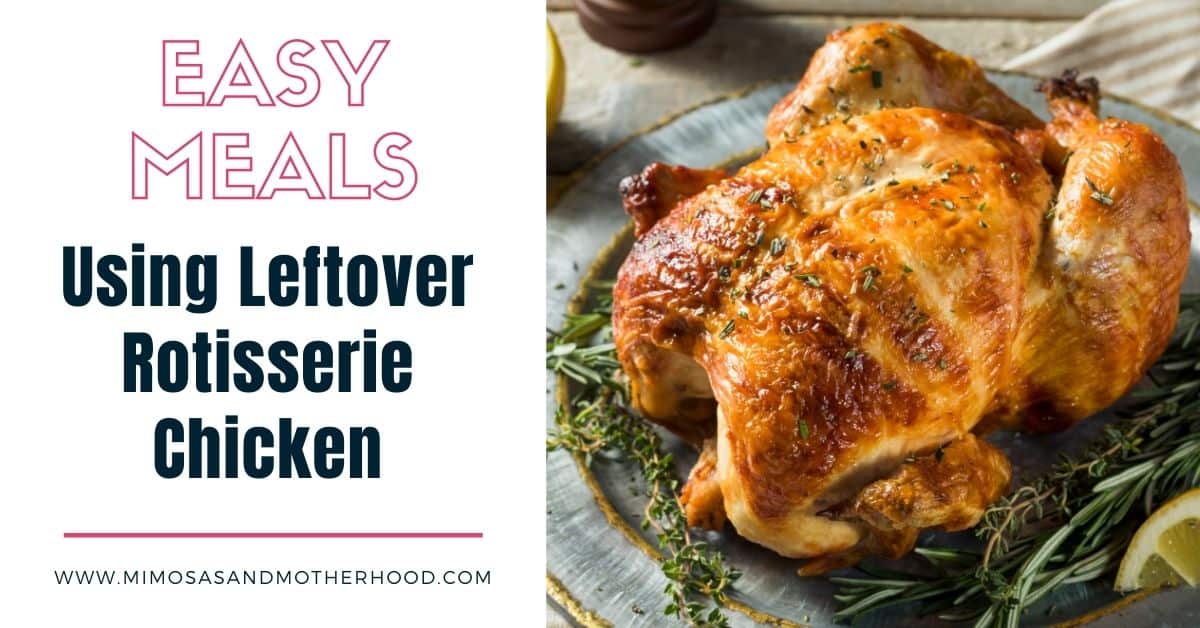 Make your dinner prep simple with these easy meals using leftover rotisserie chicken! Most of these recipes can be ready in less than 30 minutes (and some in less than 15 minutes!), which makes them perfect as easy weeknight dinners.
I am a big fan of leftovers, and will happily eat the same meal over and over again all week long. My husband, on the other hand, is not. He likes more diversity in his meals, so I started experimenting with different ways to repurpose chicken, pork and beef last year.
I love reusing leftovers when possible for a few reasons. First, it's budget friendly. Our family tries to buy and cook meals in bulk to help save money on our food bill. Second, leftovers help make dinner prep MUCH faster (and who doesn't love a shortcut??).
I've been wanting to create a leftover-based menu plan for a while, and decided to start with chicken after the majority of my followers requested it! (If you're not following me on Instagram, you're missing out! I host tons of giveaways, post specials and ask my followers for recommendations all of the time. Click here to follow me!)
This week is all about rotisserie chicken. Rotisserie chickens are an easy and affordable way to make your family delicious meals using leftovers! I like to roast a rotisserie chicken at the beginning of the week (or purchase a pre-cooked one if I'm running short on time) and use the leftover meat in recipes throughout the week. Not only is it easy to do, it's also great for saving money!
We love rotisserie chicken in our house, whether store bought or homemade! You can pick up a rotisserie chicken for under $10 almost everywhere, but I recently learned how to make my own using the Instant Pot for even cheaper.
Whether you roast your own at home or pick one up from the grocery store, all of the recipes for this week's menu plan start with leftover rotisserie chicken.
A standard rotisserie chicken yields enough meat for about 2 meals for 4 adults. Some people like to eat a lot more, so be aware of how much chicken you have left after that first night and tweak this menu based on that.
This menu is crafted with 4 options of easy meals using leftover rotisserie chicken. If you have more adults in your house (or kids with adult-sized appetites!), you might not be able to stretch your leftover rotisserie chicken that far, but this way you have some variety to choose from!
If you're looking for a quick and easy way to create one meal that can be repurposed into multiple new options during the week, read on for this collection of easy meals using leftover rotisserie chicken.
Note: Some links may be affiliate links. That means I may make a commission if you use my links to purchase, at no extra added cost to you! I only recommend products that I personally love and believe in. Full disclaimer here.
Easy Meals Using Leftover Rotisserie Chicken
Make your dinner prep simple with these easy meals using leftover rotisserie chicken! Most of these recipes can be ready in less than 30 minutes (and some in less than 15 minutes!), which makes them perfect as easy weeknight dinners.
Night 1: Rotisserie Chicken
If you have been looking for an incredibly easy way to make your own rotisserie chicken, this is the recipe you've been searching for! This Quick & Easy Instant Pot Whole Rotisserie Chicken is not only simple, but it comes out perfectly juicy every single time.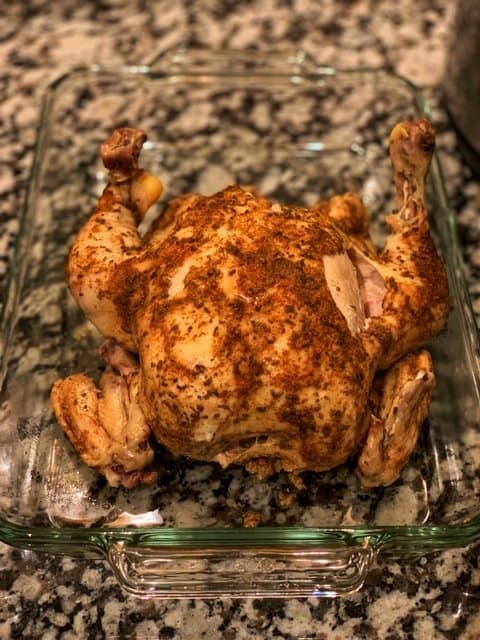 Don't have an Instant Pot? No problem! You can order a great option here. We love our Instant Pot. It took a little getting used to, but I quickly learned how to make some amazing options in it.
You can also pick up a pre-cooked rotisserie chicken from your local grocery store if that's more your style! Whether you grab one at Whole Foods or Walmart, rotisserie chicken is such an easy grocery item to help you stay on track with cooking more at home.
This recipe (or store purchase) is the cornerstone of the entire week's menu, but you can easily substitute any cut of chicken that you've cooked and shredded.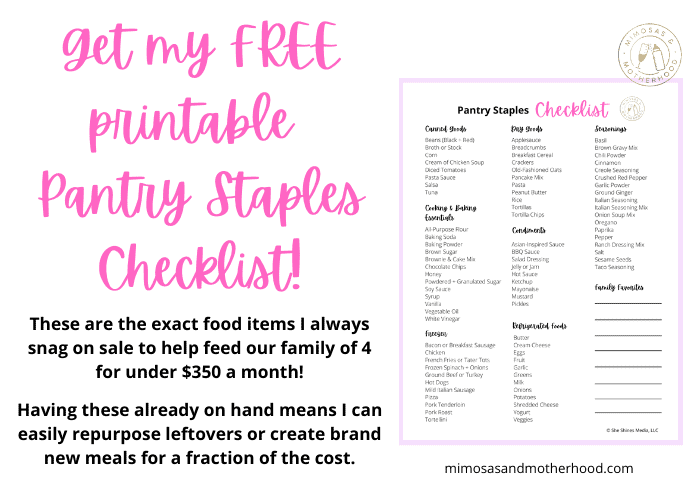 Leftover Option 1: Green Chile Chicken Enchiladas
These Green Chile Chicken Enchiladas are not only easy to put together, but they're a great option for freezing, too! These are savory, filling and always hit the spot.
Leftover Option 2: Southwestern Chicken Burrito Bowls
If you're not taking advantage of leftovers, you're missing out on easy recipes like this! These Southwestern Chicken Burrito Bowls are SO easy to throw together. With some very simple prep, you can have a yummy, fast and healthy meal ready in 15 minutes!
Leftover Option 3: Creamy Garlic & White Chicken Lasagna Soup
This Creamy Garlic & White Chicken Lasagna Soup is the coziest, creamiest and most comforting soup. Rich in flavor and easy to cook, it's sure to be a hit with the whole family! It's loaded with rich flavors, and is a fantastic way to create an easy meal using leftover rotisserie chicken.
Leftover Option 4: Buffalo Chicken Dip Sandwiches
I know, I know: isn't this a dip recipe? It IS, but it's also one of those rare dips that are so filling and yummy that you want to eat it over and over again.
Use your leftover rotisserie chicken as the base for the Creamy Dreamy Buffalo Chicken Dip, and then simply put on your favorite hamburger bun, tortilla for a wrap or even plain old bread! This is also an awesome addition for sliders.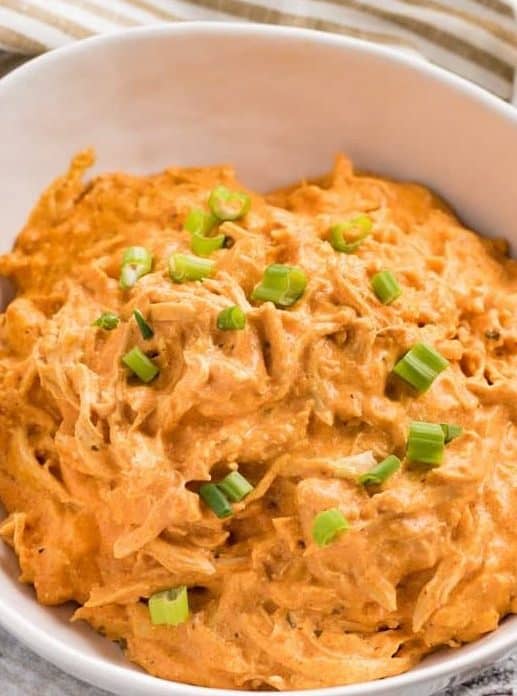 Once you figure out how to repurpose one leftover meal into multiple meals, it's a game changer for your grocery budget. Starting easy with rotisserie chicken (or any shredded chicken!) is a great way to figure out not only what you and your family like, but what fits easily into your weekly meals.
What recipe are you most excited to try? Tell me in the comments below, and be sure to tag me when you try one of them!