We just celebrated Baby A's 1st birthday, and man did the day fly by! With our new little guy on the way in just a few more months, I decided that I wanted to try to DIY as much as possible for this birthday party. The one thing I was super nervous about? The DIY balloon garland arch! I'm so excited to share with you the Absolute Easiest DIY Balloon Garland Arch EVER. Seriously!
I'm basically a kid at heart, and I'm not lying when I say I love balloons. I knew for Baby A's 1st birthday that a balloon arch or two was a necessity, but some of the DIY tutorials out there were a little bit overwhelming.
I'm so excited I stumbled across the absolute easiest way to create a DIY balloon garland arch. I'm not joking: I found out about this product seriously 2 nights before A's birthday party, and am SO thankful for Amazon Prime!
Note: Some links may be affiliate links. That means I may make a commission if you use my links to purchase, at no extra added cost to you! I only recommend products that I personally love and believe in. Full disclaimer here.
(Side note: If you don't have Amazon Prime yet, click here for a free 30 day trial! With little ones it's made our lives a zillion times easier with free 1 day shipping. Plus a Prime membership now also includes THOUSANDS of movies and TV shows you'll want to binge watching while up in the middle of the night feeding your little love, grocery delivery and local restaurants! You can get a FREE 30 day trial membership HERE)
My number one tip for a gorgeous party on a budget is to DIY as much as possible, and I knew that figuring out how to create a balloon garden ourselves would save a ton. I was quoted anywhere from $100 to $500 just for one 5 foot balloon garland from outside companies! There was no way that worked for our budget. I ordered everything we needed for two balloon garlands for UNDER $50!
We received so many compliments on our DIY balloon garland that I knew I had to create a tutorial. You won't believe how easy and inexpensive this project is! It's also really easy to personalize your DIY balloon garland or balloon arch by incorporating your color scheme, adding extras (like leaves and flowers) or changing the length. For Baby A's party we did a Welcome to the Jungle Wild One theme, and went with green, gold and white balloons with jungle leaves.
The Absolute Easiest DIY Balloon Garland Arch Ever
Supplies:
Step 1: Arrange each color of balloons into three separate piles. This will allow you to easily see what you have left and grab the color you need next.
Step 2: Blow up your balloons with air, not helium. This is by far the most time consuming and tedious part of the DIY Balloon Garland. I recommend either recruiting some friends and family to assist, or spending a little extra and getting an air compressor or balloon pump.
Step 3: Attach your blown up balloons to the balloon garland strip. You'll see that the strip has both a large hole and a smaller hole. Insert the knot of the balloon into the large hole, then pull the knot forward to secure it in the small hole. Be sure that the actual knot has come through, otherwise the balloon can easily fall off.
Continue to add balloons to the plastic strip in the pattern you desire. I chose to add two of each color at a time.
If you want a very full balloon arch or balloon garland, you'll want to not skip any of the pairs of holes (pair of holes = the small and large holes that are attached to each other). I chose to skip one pair of holes between every new color, as I wanted to stretch our balloon garland out and pin to the wall.
Step 4: Add any embellishments to your DIY balloon arch that you want! We added jungle leaves to go with our Wild One theme.
Step 5: Hang your balloon garland. We made two garlands, and chose to hang them on the wall as accent decor. I simply used push pins!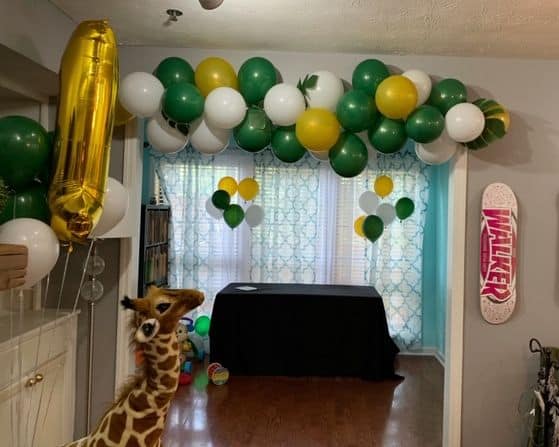 If you are making a larger garland to use as a balloon arch, you'll want to anchor the ends of the arch to the ground utilizing fishing line or string.
While you can absolutely secure your balloon garland by yourself, for safety I recommend having a spotter if you're going up on a step stool.
That's seriously it! This Balloon Decorating Strip from Amazon is seriously a game changer. It made creating our own DIY Balloon Garland so incredibly easy, and I hope it helps your party planning too!
Tried this balloon arch? Tag me today! I love seeing what y'all are up to!
Mention @simply.siobhan or tag #MimosasAndMotherhood!