How to Build a Maternity Wardrobe On A Budget
When I found out I was pregnant with Baby A, I struggled with pulling the trigger on purchasing maternity clothing or building a maternity wardrobe. I actually held off buying more than a few items until my third trimester, because it felt weird spending a ton of money on clothing I was only going to wear for a short period of time. Don't be like me! Learn how to build a maternity wardrobe on a budget.
Maternity clothes can be shockingly expensive. I was on a pretty tight budget for both of my pregnancies, so the idea of spending an insane amount of money on maternity clothing was off the table.
Eventually I realized that if I could strategically pick even just a few items, I would be able to not only feel better about my growing body, but feel so much more comfortable. I learned how to make a few pieces go super far!
So how do you go about pulling together a great maternity wardrobe with only a few items? Here are some great tips and tricks on how build a great maternity wardrobe on a budget.
Note: Some links may be affiliate links. That means I may make a commission if you use my links to purchase, at no extra added cost to you! I only recommend products that I personally love and believe in. Full disclaimer here.
How to Build a Maternity Wardrobe Without Blowing Your Budget
Shop Your Closet (and Your Friend's Closets)
You absolutely already own some great things that can easily be repurposed to help you make it through your pregnancy. Think cardigans, stretchy dresses and loose shirts!
Have a friend who has given birth in the last few years? See if she still has any of her maternity wear tucked away. Area moms groups are another great place to shop for gently used items! You can sometimes find a fantastic capsule maternity wardrobe for a fraction of the cost on these.
Related: The Best Maternity Essentials You Can Find on Amazon
Wardrobe Extenders
Not ready to start adding true maternity clothing to your wardrobe? Look into wardrobe extenders.
Check out button extenders for pants, belly bands to help fill the gap between your pants and growing belly, and even bra extenders to help your pre-pregnancy bra fit for just a little bit longer!
You can snag a cheap set of 5 button extenders for pants here and bra extenders here!
Belly bands are also a fantastic invention, as they allow you to wear your pre-pregnancy jeans a little longer, without feeling like you're bursting out of them. Think of them as an extra layer of fabric, covering up the growing space between your belly and pants.
If you're looking for a great belly band, I recommend this pack of 2 bamboo stretchy belly bands.
Related: Best Maternity Dresses on Amazon
Comfortable Maternity Clothing is Key
If you haven't discovered the amazingness of yoga pants during your pregnancy, now is the time! While there are some pretty incredible ones out there that are made specifically for pregnancy (giving extra support and stretch as you grow), you can also get away in the beginning with some cheap ones you pick up at TJ Maxx.
Bonus: black maternity yoga pants go with pretty much everything!
My favorite cheap pair of maternity leggings can be found here on Amazon!
Not able to wear loungewear day to day?
Check out these incredibly comfy black work pants as an option. During my first pregnancy I worked in a corporate office and got away with purchasing just one pair! These are the actual ones I picked up! You can snag yours here.
There are lot of places to find great options for pregnancy. Check out this chicwish review here.
Related: Top 5 Maternity Clothing Items Your Closet Needs
Are you already thinking about what you'll pack to bring with you to the hospital or birthing center? I created this free printable ultimate hospital bag checklist to help!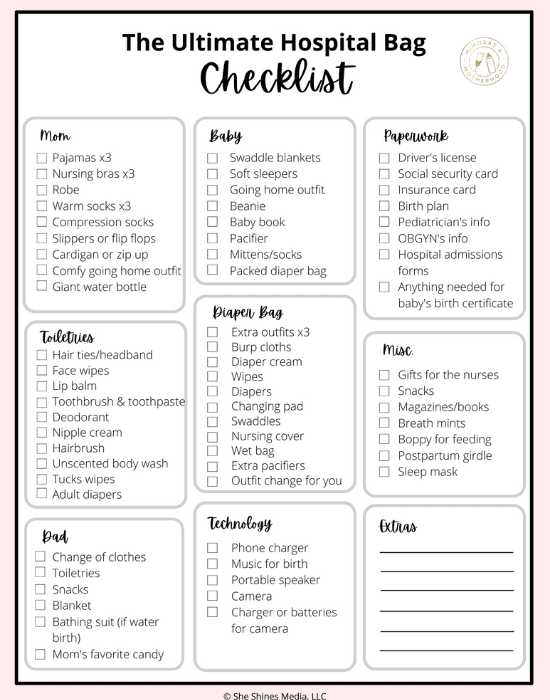 I made this list based on my own experiences at a birth center, plus the experiences and recommendations of dozens of friends and readers who birthed in a hospital setting. This Ultimate Hospital Bag Checklist is the perfect addition to your birth preparations, and you can print it for free at home! Just enter your details below to snag yours
Pick a Maternity Wardrobe Palette
If you don't want to go all out adding maternity items to your closet, the best thing to do is pick a color palette to stay within. This allows you to easily mix and match items and pull from basics as your build your maternity wardrobe. This is one of the best tips for building a maternity wardrobe on a budget!
A great starting place is neutrals, like black, white and grey. You can easily pair any of these with a fun kimono or scarf for a pop of color, and no one will realize you're rotating the same items!
Stock Up on the Basics
My biggest piece of advice is to start small, and add items that can easily be paired together. One pair of comfy jeans will take you far!
Check out this pack of basic tanks, this one of neutral t-shirts, this two pack of leggings and this great jeans option that can be easily dressed up or down!
Consignment Stores and Online Sales
Have a kids specific consignment store in your area? Many times these spots also have a great selection of maternity clothing! Be sure to check out websites like Poshmark too, as many times you can find next to new items that were never worn for a bargain price.
Maternity Clothing Rental
While there are so many great websites out there for renting maternity wear (like Loft and Stitch Fix), I do need to caution you that renting your wardrobe can get pricey quickly! With that being said, if you have a special occasion, like a wedding or office party, you can rent a maternity dress for a fraction of the cost from big names like Rent the Runway.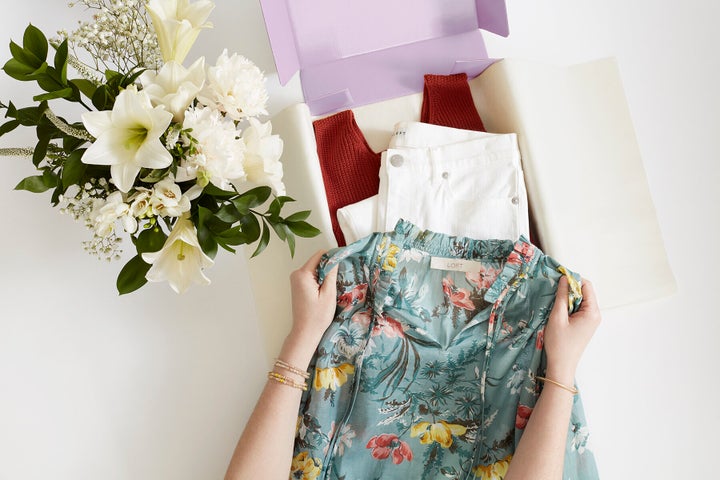 Accessorize
Wanting to change things up? Jewelry, scarves and layers you already have are great ways to freshen up your basic maternity wardrobe without purchasing anything new! Plus if you end up picking up a few new items, these are things you know you'll be able to wear again even after baby arrives.
Don't forget about the shoes! Comfy shoes are a must. I know many mamas to be who swear by living in sneakers, like Nikes. When I'm pregnant my feet swell so I personally choose mens shoes! Read about the difference between men and women air force 1 here.
Purses help make outfits standout too. You can even make your own, like this DIY crossbody bag, or find an affordable dupe like a Celine bag dupe.
Most importantly, remember that there's no fast and hard rules when it comes to maternity clothing. Dress in things that make you feel happy, comfy and confident, and try to soak in those temporary (and beautiful) curves!
I hope these tips on How to Build a Maternity Wardrobe on a Budget were helpful to you as you begin to shop.
What other tips do you have? I'd love to hear them!