Nanit Pro Camera Review by a Real Mom
This Nanit Pro Camera Review is written by a real mom of three, based on our family's personal experience using this WiFi baby camera (including a special Nanit discount code).
When it comes to baby cameras, there are so many options! From options with apps on your phone to traditional video monitors, baby cameras without WiFi and old school audio-only options, the baby cameras of today are far different then even 10 years ago.
As a mom of three, I've tried quite a few over the years. After trying out the Nanit Pro, I'm completely hooked.
I thought about getting the Nanit baby camera when my oldest was a newborn, but I was very hesitant about the investment. With that in mind, I'm sharing a Nanit Pro Camera review to help other parents who might be in those same shoes, too, including a special Nanit promo code to save on your order!
This review is based solely on my family's personal experience using the Nanit Pro baby monitor.
Note: Some links may be affiliate links. That means I may make a commission if you use my links to purchase, at no extra added cost to you! I only recommend products that I personally love and believe in. Full disclaimer here.
What is the Nanit Pro Camera?
The Nanit Pro is the newest baby camera option from Nanit. With an upgraded 1080 camera, this new version also comes with a breathing band for movement monitoring while your little one is in their crib.
Nanit has a great app that allows you to access the video feed from anywhere, as long as you have WiFi access for the camera. This is incredibly useful, especially if you have a larger home or baby sleeps far from your bedroom. It gives you a smarter way to check on your baby.
The Nanit Pro can be ordered directly from Nanit, or can also be found on Amazon or at Target. After reaching out to Nanit, they wanted to offer our readers a special discount code! If you order directly from Nanit, you can save 15% on your Nanit purchase with promo code mimosas.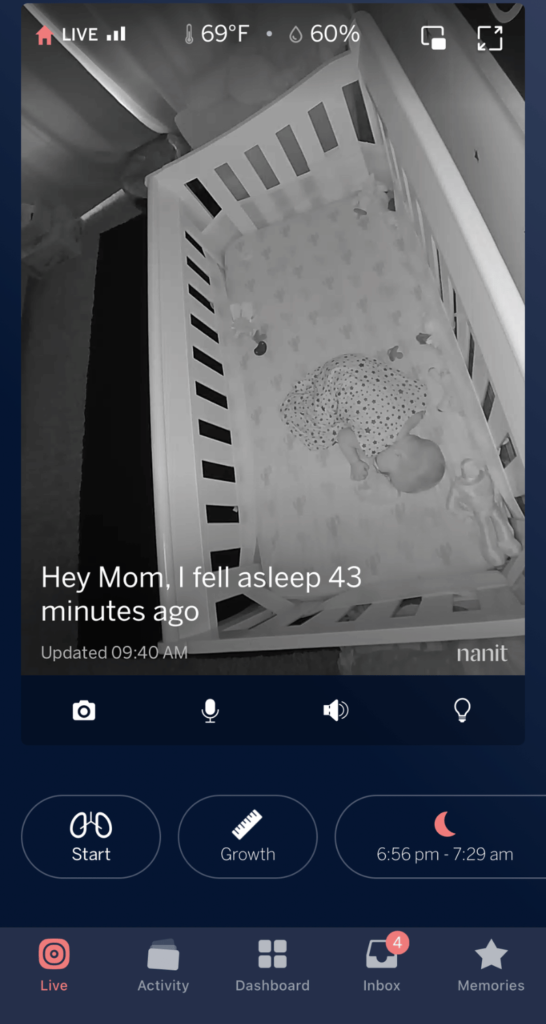 Nanit Pro Camera Features
The Nanit Pro comes with a wide variety of features, including:
1080p HD video
The ability to see baby from anywhere
Sound and motion alerts
256-bit AES encryption
Temperature and humidity of the nursery
2-way audio to speak to baby
White noise and soothing sounds
Nightlight
Positioned over baby's crib
Choose from a floor stand, wall mount or flex stand
Video
The Nanit Pro camera features 1080p HD video, with a resolution of 1920×1080 pixels. I was pleasantly surprised at the high-definition video feed and just how clear the night vision is!
The camera is stationary, but the app walks you through how to properly set up the angle in your baby's room to accurately capture the entire crib on the video feed.
The app does render some colors slightly differently then real life, and the clarity can become pixelated if you zoom in. The video quality is still great compared to other similar WiFi baby monitors.
The camera is designed to work over Wi-Fi networks, so if your connection isn't strong or is spotty, that will impact the quality of the video.
Sound
While some reviews mentioned the sound isn't great, that hasn't been my experience. In fact, I find the sound clarity more than good enough to hear even low noises from the nursery.
The Nanit app gives you the option to turn on notifications for sound, and it can alert you on your phone when baby starts making noise. You can change the sensitivity if you're concerned about background audio alerting you instead of just baby's real-time sound.
The maximum volume decibel level is 89db. If your Wi-Fi connection isn't strong, sound quality might be impacted.
Breathing Band
The Nanit breathing band is a unique feature of the Nanit Pro camera. It is designed to safely detect your baby's breathing motion in almost any sleep position, with no sensors, electronics or radar needed.
Nanit tracks breaths per minute (BPM) and can send alerts through the app if it detects your child might need you. It's important to be clear that Nanit is not a medical device.
Battery Life
The Nanit Pro Camera doesn't have a battery and only plugs in the wall. You can only access the parent feed through the app, which can be connected to your cell phone or another smart device.
App
The Nanit app is intuitive and easy to navigate and a great companion for this smart baby monitor. It's also very easy to change settings.
Most of features I use most often are directly on the home screen of the Nanit app. The app has multiple features you can choose to take advantage of, including live view from anywhere, temperature and humidity readings, sound and motion notifications, real-time alerts, two-way audio and more.
Additionally, you can choose to upgrade your service for even more options:
• Nanit Pro Insights Premium offers 30 days of sleep analysis, 30 days of video clips, 2 days of video history storage, the ability to save up to 200 memories from the camera, and being able to invite up to 10 "parenting team members" to have access.
• Nanit Pro Insights Ultimate gives you unlimited sleep analysis, video clips and memories (more fun moments to look back on!), as well as 7 days of video history storage. You can also choose up to 50 parenting team members to have access.
According to Nanit, paying for the upgraded options are FSA/HSA approved, too!
There is a slight lag time between app notifications and real time of about 1-2 seconds, which is still very suitable for a baby monitor.
In addition to being available as an iPhone and Android app, the Nanit app is available for iPad, Android tablets, and Kindle Fire.
Ease of Use
I found the Nanit Pro Camera to be one of the easiest WiFi cameras to set up, and found the Nanit app to be incredibly easy-to-use and navigate as well.
The Nanit Pro comes with a simple quick start guide that is easy to follow for both the set up of the camera itself, as well as how to get your app squared away.
Safety and Security
If you choose to use a WiFi-enabled baby monitor, one of the most important things to keep in mind is safety of the camera, as well security of the camera feed and app is an important point to consider.
According to the Nanit website, "We specifically designed Nanit's camera so that your video stream can never be pulled from the camera directly — it can only be pushed by our secure servers onto your mobile device."
One of the ways that Nanit prioritizes safety is by using 256-Bit AES Encryption technology, as well as offering you the option to enable two-factor authentication for log-in access to the app.
When it comes to safety of the device, the Nanit Pro takes safe cable management into consideration every step of the way. The power cord is encased in a plastic cylinder that snaps together, preventing baby from getting tangled in any hanging cords or wires.
Pros of the Nanit Pro Camera
The WiFi range of the Nanit baby monitor is great. I was pleasantly surprised at the video quality, especially as the baby nursery isn't located on the same floor as our WiFi router.
I also really like that I can set alerts in the Nanit app settings to send a notification if the temperature in the baby's room drops below or rises above a safe zone you determine.
The Nanit camera itself is incredibly easy to use and set up. I chose the Nanit Pro Camera with Floor Stand and was able to set up the entire thing myself in about 10 minutes!
I also really like the easy-to-use app. I was able to invite my husband to have access, as well as create a limited profile for the grandparents to have access to when they babysit. My mom loves the live feed!
The app has extra features, like monitoring room temperature, tracking your baby's growth milestones, showing a snapshot of how they slept the night before as well as baby's sleep patterns and quality of sleep over time. It can be a wonderful tool to have over time, and can also create a beautiful timelapse highlight reel of your baby's growth over time with the unique overhead view.
The Nanit Pro smart baby monitor also uses 256-Bit encryption and optional two-factor authentication for safety. You can also use other Nanit products in tandem.
Cons of the Nanit Pro
The audio quality isn't phenomenal, but it's much better than other baby cameras we've tried out. The Nanit Pro Camera is expensive, so if you're on a tight budget it might not be the right choice for your family.
The Nanit Pro is a good option if you have a reliable wi-fi network. If your internet connection isn't strong, this isn't the right smart camera for your child's room. (In that case, a good baby monitor choice might be one that doesn't use wifi at all, like the ones found here.)
Is the Nanit Pro baby monitor worth it?
Overall, my answer is yes, the Nanit Pro is worth it! While pricey, the extra features and camera quality is great. The extra features in the app, like the sleep tracking and ability to track your baby's growth over time, are really nice to have in that first year.
Additionally, the ability to monitor the temperature and humidity in baby's room, as well as utilize the breathing band, will give parents peace of mind when your baby starts sleeping in their own room.
It's important to note that I did NOT upgrade to a subscription. I could still access many of the wonderful parts of the Nanit Pro camera without spending the extra money!
The Nanit Pro camera is a great option for a new parent or more experienced parent, as it can grow with your baby. In the future, the Nanit nursery camera can also be repurposed into an interior security camera that can be remotely monitored through the mobile app.
Remember, if you order the Nanit Pro Camera directly from Nanit, you can save 15% off your order by using the Nanit promo code mimosas
Frequently Asked Questions about the Nanit Pro Baby Monitor
Can I use Nanit Pro without subscription?
Yes, you can use the Nanit Pro without a subscription. You're still able to access many of the bells and whistles, including live view from anywhere, temperature and humidity readings, sound and motion notifications, two-way audio and more. If you have any trouble, just reach out to customer service to troubleshoot.
Which is better Nanit Pro or Plus?
According to the retailer, the Nanit Pro camera features 1080p HD video, with a resolution of 1920×1080. The Nanit Plus camera has a smaller pixel resolution at 1280×960. The increased resolution gives the Nanit pro a better video feed, especially the night vision.
Does Nanit Work with Google Home?
As of the date this Nanit Pro camera review was published, Nanit was not compatible with Google Home.
Does Nanit work with Echo Show?
Yes, Nanit works with the Echo show device via Alexa and your Amazon account. You will need to enable the Nanit show skill in order to use voice commands.
I hope this Nanit Pro review was helpful as you choose the best baby monitor for you own little one! Remember, for a limited time you can use the Nanit coupon code MIMOSAS to discount the Nanit purchases in your shopping cart.
You can also subscribe to their newsletter to be the first to know about free shipping, new discount codes, promotional codes, the best coupons and other Nanit discounts. Use of Nanit promo codes is subject to change at the retailers discretion, so always check for special requirements when you check out. The "mimosas" Nanit code currently works for both full prices as well as sale items!
If you enjoyed this article, use the image below to pin it to your Pinterest board to make it easy to find next time!