The Best Baby Monitor Without Wifi (2023 Update)
Baby monitors can be a great way to keep tabs on your baby when you're not physically in the same room as them. These days you can choose between monitors that use wi-fi to keep you updated, or ones that are wi-fi free. Read on for the best baby monitors without wifi for 2023!
Video baby monitors offer extra peace of mind for keeping an eye on your little one, and are a great way to check on them without risking waking up a sleeping baby.
There are a LOT of baby monitor choices out there. With our first child we chose a baby monitor without wifi that we absolutely loved! When we expanded our family, we needed to get a monitor that had two cameras, and chose a baby monitor without wifi for that as well.
The good thing about a baby monitor without wifi is that it doesn't require an internet connection for you to be able to use it. These are especially helpful if you don't have reliable internet or need a camera you can easily use while traveling.
Some parents also just plain don't feel comfortable using baby monitors that connect to the internet because of privacy concerns surrounded wi-fi enabled cameras, making the ones on this list a great place to start in their search.
This list was created during my search, and is newly updated for 2023. Read on for some of the best baby monitors without Wi-Fi on the market today.
Note: Some links may be affiliate links. That means I may make a commission if you use my links to purchase, at no extra added cost to you! I only recommend products that I personally love and believe in. Full disclaimer here.
Best Baby Monitors Without Wifi
Infant Optics DXR-8 Video Baby Monitor
The Infant Optics DXR-8 Video Baby Monitor provides instant playback, remote zoom, pan and tilt and night vision at a reasonable price point. It also lasts up to eight hours per charge with a delay-free playback!
Interestingly, the Infant Optics DXR-8 Video Baby Monitor also comes with an interchangeable lens system. Out of the box it comes with both a normal lens and an optical zoom lens. However, you can also purchase a wide-angle lens separately so you have an even better view of baby's room!
The biggest complaint with the infant optics dxr-8 pro seems to be that some users report connectivity issues, but other than that parents seem to sing its praises!
Pros:
Zoom function, pan and tilt options
Night vision and temperature sensor
Rechargeable battery with long life
interchangeable lenses
Cons:
Some reviews complain about connectivity issues
See It Here: Infant Optics DXR-8 Video Baby Monitor
moonybaby No WiFi Baby 5 Inches Monitor with 2 Cameras
Not only is the Moonybaby No Wifi Baby Monitor affordable, it also has an impressive 1,000 foot range for use!
This monitor is ready to go right out of the box, and the battery lasts up to six hours on one charge. A nice feature is that it has a smart crying sensor and will turn the monitor on when it sense baby is crying.
With automatic night vision and a pretty good zoom, this monitor also boasts room temperature monitoring, remote lullabies and impressive reviews.
If you think your family might expand in the future, the Moonybaby camera also has the ability to hook up more than one camera by choosing the Two-Camera pack! This means you can monitor both cameras from the same 5-inch LCD monitor parent unit. You can also purchase additional cameras, as it can connect up to four.
Pros:
Large screen
Night vision
Multi-camera option
Budget-friendly
Cons:
No recording option
See It Here: moonybaby No WiFi Baby 5 Inches Monitor with 2 Cameras
Babysense Video Baby Monitor
The Babysense Video Baby Monitor is an affordable, top-rated baby monitor without wifi that allows you to access the video up to 900 feet away.
With a 2.4-inch color screen monitor and interference-free connection, the Babysense Video Baby Monitor also has night vision, temperature monitoring, 2x zoom, two-way audio, a voice-activation mode and more!
Need two cameras? Check out this Babysense monitor with two cameras.
Pros:
Long range with 2x zoom
Night vision
Temperature monitoring
Cons:
Small monitor display
See It Here: Babysense Video Baby Monitor
eufy Security SpaceView Video Baby Monitor
The eufy Security SpaceView Video Baby monitor uses a secure connection to stream video to a good size 5-inch screen without needing WI-FI.
With a sharp picture and an optional wide-angle lens that allows you to see more of the room, the battery of the eufy spaceview lasts up to seven hours with use. It also has additional features like night vision, sharp picture quality, a built-in thermostat and comes with an included wall mount.
Pros:
Large screen
Wide-angle lens
Thermostat and night vision
Long battery life
Cons:
No recording option
See It Here: eufy Security Video Baby Monitor
Roar Baby Monitors
Roar Baby Monitors are the original rugged and fully wireless baby monitor. Originally built to be used outdoors while camping or adventuring, these super durable baby monitors are a great option if you are looking for something without Wi-Fi.
Drop proof and water resistant, the units are fully wireless with a rechargeable lithium-ion battery which allows for a 20+ hour life on a single charge! They can also transmit up to 1,000 feet and are compact and lightweight enough that they can be easily stored in your pocket.
If you love to travel, be sure to check this one out, as the extended battery life alone is amazing.
PROS:
Super long battery life
Drop proof
Water resistant
Work for long distances
CONS:
No camera
See it here: Roar Baby Monitors
Best Affordable Baby Monitors with Wi-Fi
While this list was primarily to help those of you searching for the best baby monitor without Wifi, I wanted to also share 2 affordable wi-fi enabled cameras.
There are a lot of wi-fi baby monitors out there. We own both of these, in addition to the non-wifi baby monitors we also used. While baby monitors with Wi-Fi can be pricey, both of these options are pretty affordable.
Lollipop Smart Baby Monitor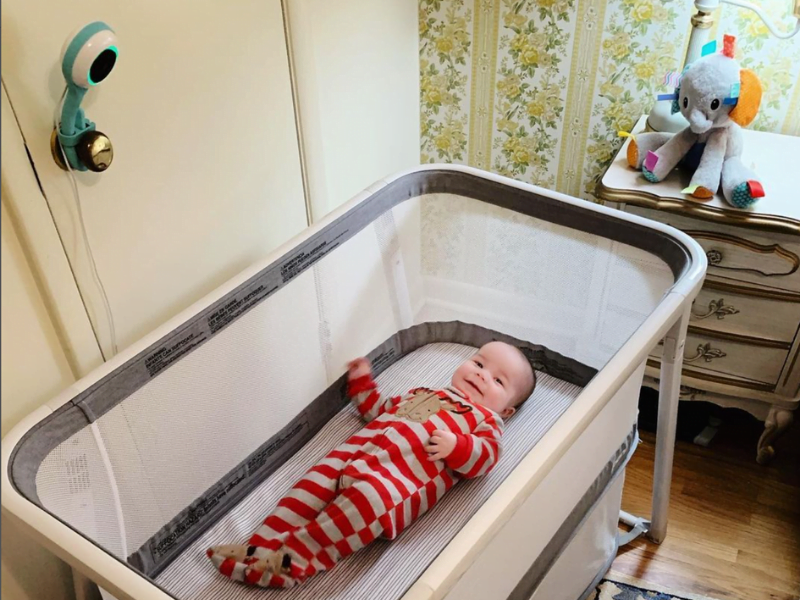 The Lollipop Smart Baby Monitor is a cute baby monitor that gets its name from its unique design.
The "tail" of the camera can easily be manipulated and looped onto your baby's crib, a stand, a curtain rod or even a doorknob. The above photo is our son on a trip! We used the Lollipop Smart Baby Monitor as a travel camera for that trip and it worked great.
You can easily access the camera using your phone. One feature we really liked about this camera was that it had "true crying detection" to help reduce false alarms. I also liked how you could use this with JUST audio, without having to access the screen.
Pros:
Crying detection
Night vision
You can play white noise or lullabies
Adjustable tail can easily be looped for mounting in a variety of places
Ability to monitor multiple cameras at the same time
Cons:
No ability to pan or tilt. Once it's up, that's the view you have.
See It Here: The Lollipop Smart Baby Monitor
Blink Mini Indoor Cameras
While not *technically* a baby monitor, we have also used Blink Mini Indoor Cameras to help monitor our home, and discovered they make really great and affordable baby monitors too.
These cameras are Alexa-enabled and easy to access on your phone using the Blink app. Blink offers a subscription service if you want to save the videos, but you can use the cameras and access them without any kind of plan.
While they require Wi-Fi to work, unlike traditional baby monitors you can also repurpose these cameras after your children are older to be indoor security cameras in other parts of you home, allowing you to monitor different rooms over a wifi connection.
Pros:
Night vision
Large view
You can pinch and zoom in easily
Cons:
No ability to tilt or pan
See it here: Blink Mini Indoor Camera
FAQ's When Choosing a Baby Monitor
Still have some questions about choosing a baby monitor? Here are some frequently asked questions.
What should I look for in a baby monitor?
Today's baby monitors are available with a LOT of potential features. The ones that we recommend you look for are:
A video baby monitor with a quality video display, so you can easily SEE what's going on with baby and in baby's room.
Night vision mode, because otherwise it will be impossible to use it to visually check on your baby at night.
A rechargeable battery for at least the parent unit
A smart unit that will turn on when baby is crying to make it easier for you to monitor
Other important features that are "nice to haves" are a temperature sensor, additional cameras, a portable baby monitor (if you want to easily take it with you when traveling), a wide angle lens, and a light notification.
At what point do you need a baby monitor?
You need a baby monitor from the time you bring your newborn home until they are toddlers. Many parents choose to continue monitoring their children through the toddler years when they still struggle to sleep.
Be sure that if you choose to install a baby monitor, you do so in a way that will keep baby safe while sleeping: no hanging cords or wires, cameras that are mounted out of baby's potential reach, etc.
What baby monitors do not use WiFi?
All of the baby monitors on this list do NOT use Wifi except for the Lollipop Baby Camera and the Blink Mini Indoor Cameras. The others are all video baby monitors that can be used without wifi.
You do not need a wifi option to find a quality video baby monitor. In fact, many of these monitors are perfect for traveling because you don't need Wifi! We have used some of the monitors on this list to multiple travel destinations, including the beach and mountains, with no issues. Next up on our list is a trip across the country to Oregon, and we are excited to check out where to stay in Portland.
Other articles on baby gear you might enjoy:
Baby Receiving Blanket vs Swaddle Blanket — Which Is Best?
REAL Baby Girl Nursery Themes to Help Inspire Your Space
The Best Pacifiers for Breastfed Babies
How Many Weeks is Halfway Through Pregnancy?
The Best Glider Rockers for Your Nursery
Final Thoughts on the Best Baby Monitor Without Wifi
These were just a few of the best baby monitors without wifi out there. Shopping for a baby monitor can feel overwhelming for new parents, but don't despair! Think about the things that are most important to you first, and go from there.
For our family we wanted the best baby monitor without wifi that was also affordable. We set a price limit and did a lot of research based on that.
For your family you might want specific features that are only available on some baby monitors, like night vision, two-way communication and crying detection. Make sure the one you choose has the things you truly want so that you're not unhappy down the road.
What do you think about this list of the best baby monitors without wifi? Do you have your eye on one of these?