Rainbow Wooden Outdoor Patio Furniture Makeover with Spray Paint
Upcycling is a fun and easy way to breathe new life into your outdoor patio set. Learn how to spray paint outdoor wood furniture like a pro, like I did with this rainbow wooden outdoor patio furniture makeover, in this easy step by step tutorial!
I love upcycling. In fact, my husband is convinced I have an unhealthy addiction to the Facebook Marketplace, because one of my favorite hobbies has become finding free stuff to makeover!
One of my first upcycling projects was a plastic playhouse makeover for our boys, and since then I've fallen in love with how fun and creative I can get. When I saw this patio set for free, I knew it would be the perfect base for a fun rainbow wooden patio set for our backyard!
I'm not a big fan of spending a lot of money on furniture right now. We have two tiny tornadoes (aka toddlers)! I've learned the hard way that no matter how hard we try, they will either accidentally break something or cover it in sticky food residue. Or both.
Our backyard really needed some extra seating, and I wanted a patio table where I could sit outside and safely work while they play, without the boys knocking into my laptop. I love bright colors, and knew that making over this old, beat up wooden furniture into a bright, gorgeous rainbow wooden patio furniture makeover was exactly the kind of project I wanted to tackle next.
I opted to makeover this furniture using spray paint, because it's quick, easy and simple to do when I'm limited on time. Check out the before and after!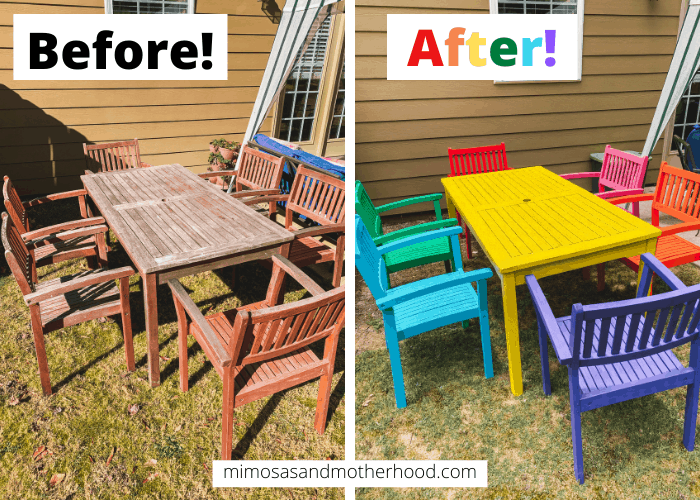 Note: Some links may be affiliate links. That means I may make a commission if you use my links to purchase, at no extra added cost to you! I only recommend products that I personally love and believe in. Full disclaimer here.
Tips for Spray Painting Outdoor Wooden Furniture
If you've never spray painted wood furniture before, don't stress! The process is actually a lot easier that I expected it to be. Here are a few tips and important details before you get started.
Can You Spray Paint Wooden Outdoor Furniture?
Yes! You can absolutely spray paint wooden outdoor furniture. You want to be sure that you choose a spray paint that is specifically made for wood, and is also good for outdoor items.
I personally love using Rust-Oleum 2X Painter's Touch spray paint on all of my outdoor projects. It's a paint and primer in one, and the colors hold up incredibly well even with being exposed to the elements every day. Rustoleum 2x also comes in a huge variety of shades, and you can easily find it on Amazon, Home Depot, Walmart AND at Target. The colors were perfect for my fun rainbow wooden patio furniture makeover!
What is the Best Paint to Use on Outdoor Wood Furniture?
If you're looking to create a rainbow wood patio set makeover of your own (or upcycle your wood furniture with any color), you can choose to either paint your furniture with an outdoor latex paint or you can use an outdoor spray paint formulated for wood.
I personally love using spray paint for outdoor furniture, but I know not every does. With the latex paint route, you want to be sure you first prime your furniture using two coats of a latex outdoor primer. You'll then want to apply multiple coats of an exterior latex paint.
Be sure you double check that the latex paint you've chosen is made for outdoor use. This is important if you want those colors to last! Most outdoor latex paint have UV protection that helps to protect the finish and color of your paint while it's exposed to the hot sun.
Love this rainbow wooden patio furniture makeover? Be sure to also check out DIY Montessori House Bed.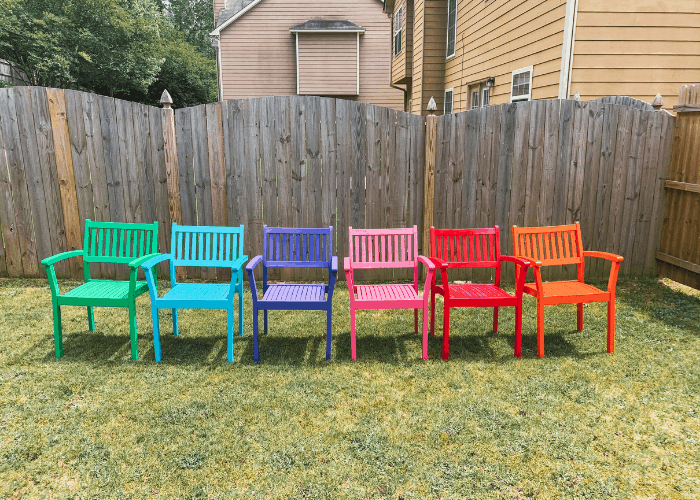 How to Spray Paint Outdoor Wooden Furniture and Create a Rainbow Wooden Patio Furniture Makeover
First, evaluate your furniture.
Upcycling is a great way to breathe new life into old, beat up things, but there are some instances where a can of spray paint isn't going to help. Check if the wood is rotting, or if there are any major structural cracks or damage that can't be easily repaired. If the damage is too bad, it won't be worth putting in the work to spray paint your outdoor wooden furniture if it's just going to fall apart.
Thoroughly Clean Your Furniture.
Using a power washer or even a strong hose, blast off any grime and build up that you can. If you don't have a power washer, scrub your furniture with soapy water and a firm sponge. Allow it to totally dry.
I personally chose to let my set "bake" in the sun for a few days after scrubbing it, to make sure the wood was extra dry before I got started.
Repair Any Damage.
Take inventory of the things that need to be fixed before you get started. Tighten any screws, wood putty holes or cracks, and reinforce the legs if necessary.
There were a few chairs in the set we got that were wobbly, so we used a few L brackets and new screws to reinforce the joints. I also had multiple places where there were small holes or cracks, so I used wood putty to fill those.
Lightly Sand the Furniture.
While you can absolutely spray paint wooden outdoor furniture without sanding, I don't recommend it. When you're upcycling something old that's been exposed to the elements for a minute, you want to help get things down to a nice clean surface.
If your furniture has previously been painted, this becomes even more important. I personally recommend using a sander, like this cordless one by RyobiONE+. We own multiple Ryobi ONE+ tools, and I love that the battery fits all of them, which makes it super easy. All my furniture really needed was a light sanding to get it prepped and ready to go.
If you don't have an electric sander, you can use a sanding sponge too. Go over every surface of the furniture you can and give it a light sand. Depending on any remaining original finish, you might need a heavier sanding in a few places. Be sure you wear a mask and eye protection to keep the dust out of your lungs and eyes. Since my furniture only needed a light sanding, sunglasses worked fine for me!
After sanding, be sure to blow off any dust that remains. I actually use a leaf blower for this, since it's right there in the garage where I paint and does the job super well!
Consider Using a Primer.
With the spray paint I like to use, the Rustoleum Painter's Touch 2x, you don't actually need a primer. It covers incredibly well and holds up great too. However, depending on the level of damage your wooden furniture has, you might want to consider applying a primer before you paint.
Half of the furniture I used to upcycle into this gorgeous rainbow wooden patio furniture makeover was really beat up. It was clear that it had been exposed to the elements without being taken care of for years, and just completely soaked up the spray paint!
I painted the table first, which was in really bad shape. After, I realized that if I had used a primer first, the old wood would have sucked that up and I wouldn't have had to do so many coats. I tried this on 2 of the chairs that were in the worst shape, and it actually helped with that issue!
Paint Your Furniture
If you are using a primer, be sure to first let that dry. I started painting my furniture for this rainbow wooden patio set makeover by flipping everything over upside down and starting from underneath each piece. While I know that the odds are no one will see the bottom of this patio set, I did this to help seal and protect the wood.
Be sure you shake your spray paint can thoroughly before getting started. Apply short, light coats of paint, going in the direction of the grain. Spray paint coats can actually be applied as soon as 5 minutes later in the optimal conditions!
Apply as many light coats as you need until you are happy with the coating. I applied 2-3 coats for my chairs, but the table needed more! It's up to you and your personal preference.
I was so excited about finding bright, beautiful colors for this rainbow wood patio furniture makeover. Here are the shades I personally used! I recommend 2 cans per chair, and 3-4 for the table.
Full disclosure: I couldn't find all of the shades I wanted at just one store, so I drove around and picked them up from my local Walmart, Home Depot AND Target. You don't have to be as extra as me! I was just really sold on certain shades.
Apply a Sealer (If Desired)
If your new patio set is going to be exposed to the elements every single day, you might want to consider adding a final layer of sealer to the spray-painted wood furniture.
This is completely optional, but can help extend the life of your furniture, especially if the wood was in poor shape before. Here are a few options!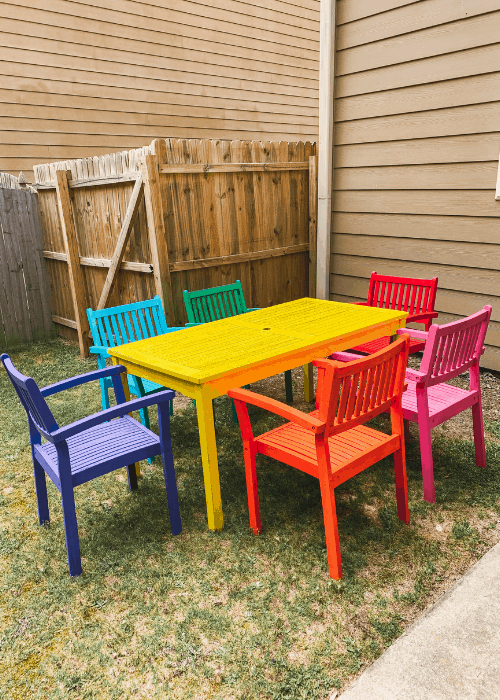 Rainbow Wooden Patio Furniture Makeover with Spray Paint
I absolutely loved creating this rainbow wooden patio set makeover. It's so easy to make old furniture new again with a little elbow grease and spray paint!
It was such a fun project, and I'm thrilled with how it turned out. I can't wait to enjoy meals with my family at this beautiful patio set in our backyard.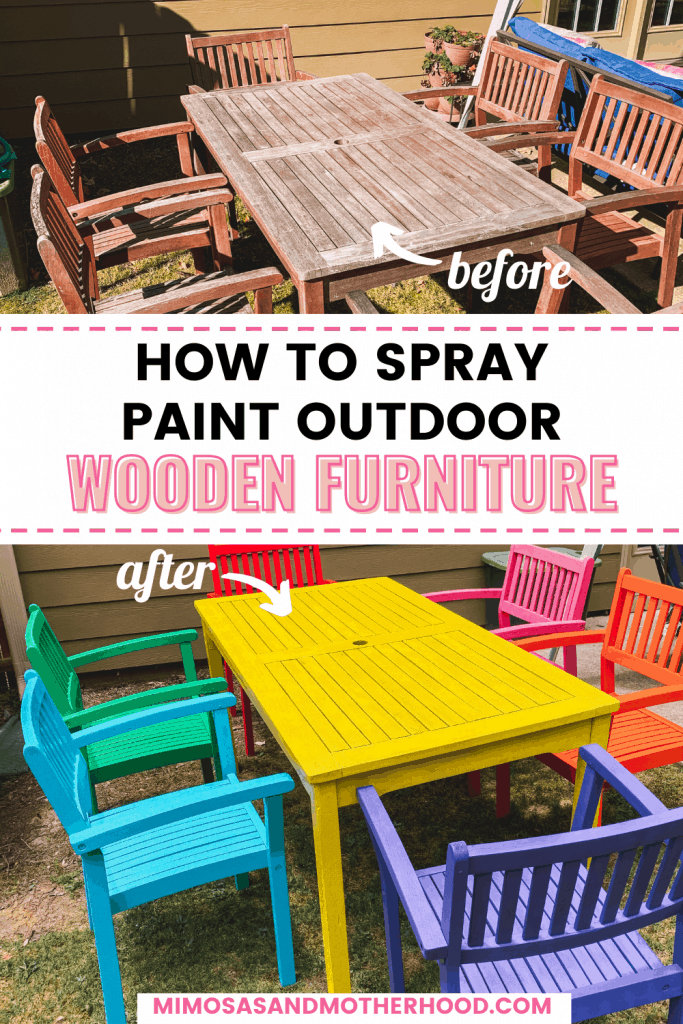 Related DIY Posts:
Cozy Coupe USPS Mail Truck Makeover