Create a Plastic Playhouse Makeover!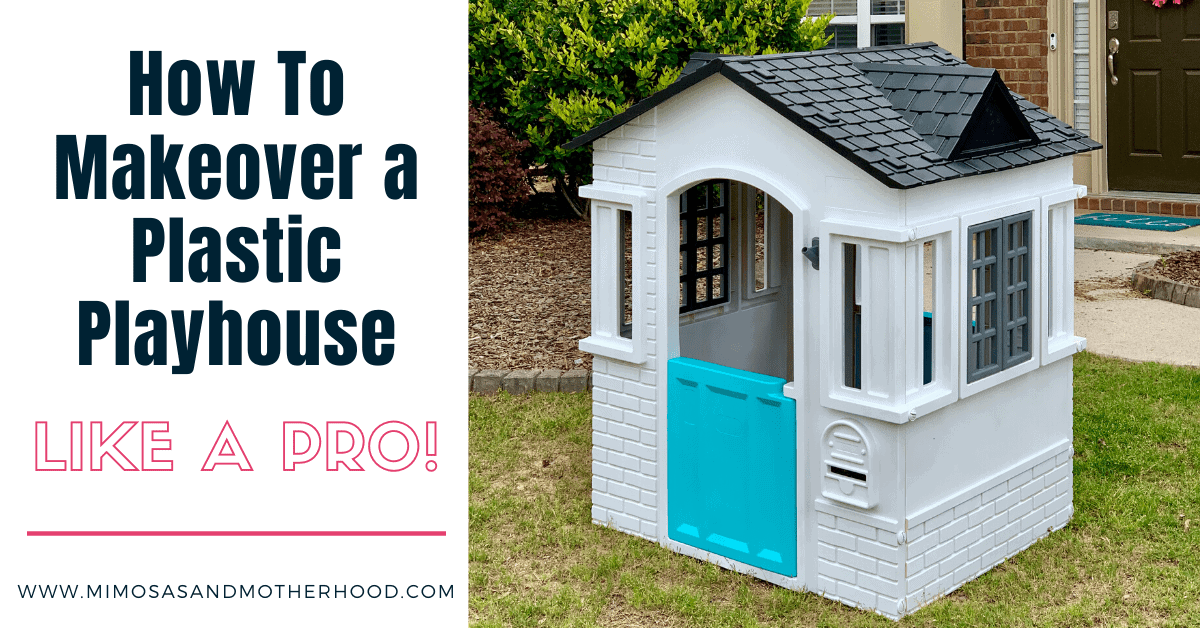 How to Paint and Upcycle a Plastic Playhouse- A Step By Step Plastic Playhouse Makeover
When my first son was about a year old, we were gifted a well-loved Little Tikes Playhouse. I was so excited for him to have his own space to play in. While still in great shape, this Little Tikes playhouse for sure had seen better days. I loved learning how to makeover a plastic playhouse and create my own DIY Plastic Playhouse Makeover.
I have fallen in love with upcycling kids toys, and was so excited for the chance to upcycle this plastic playhouse.
Check out the before picture: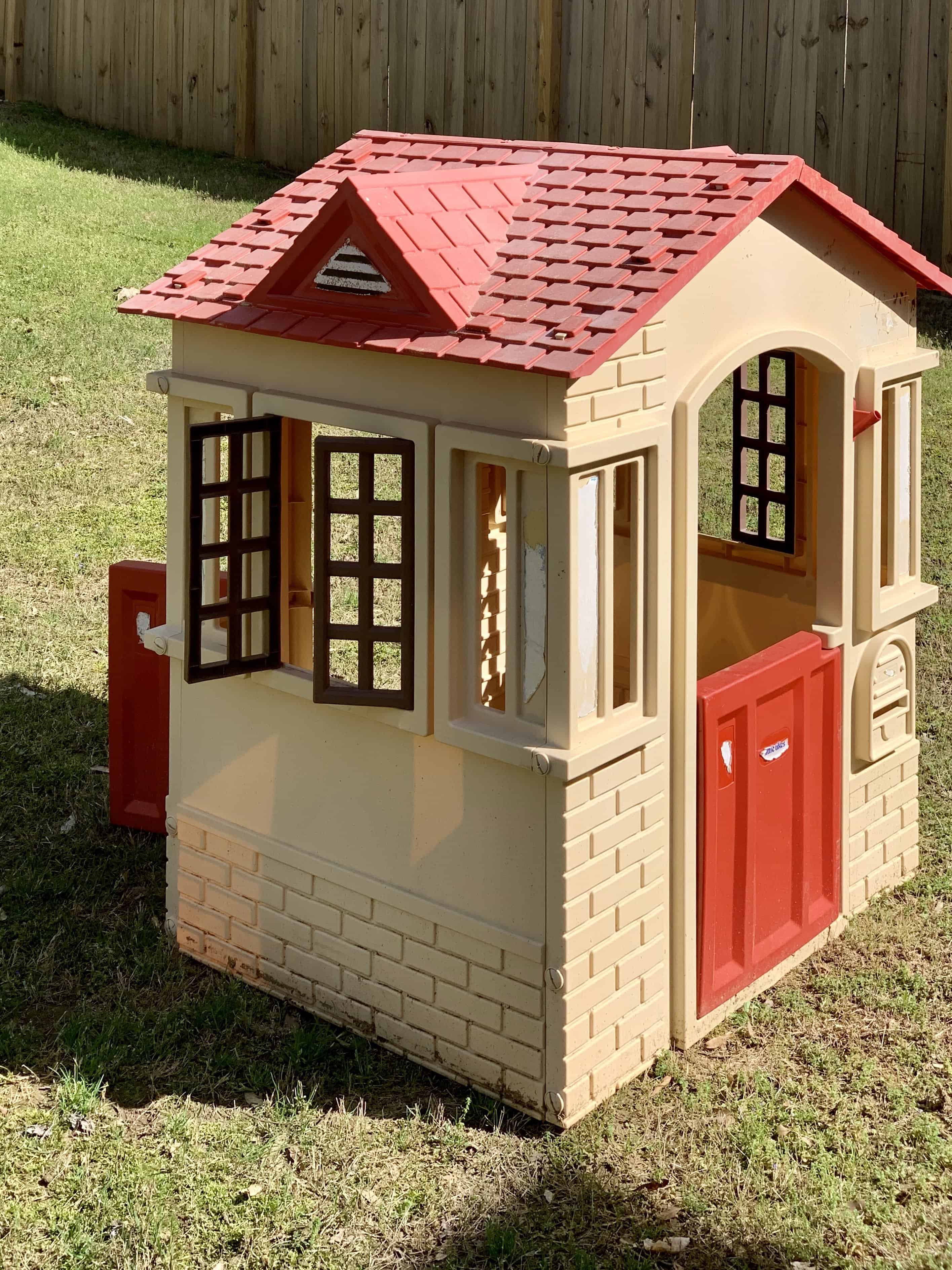 …and the "after!"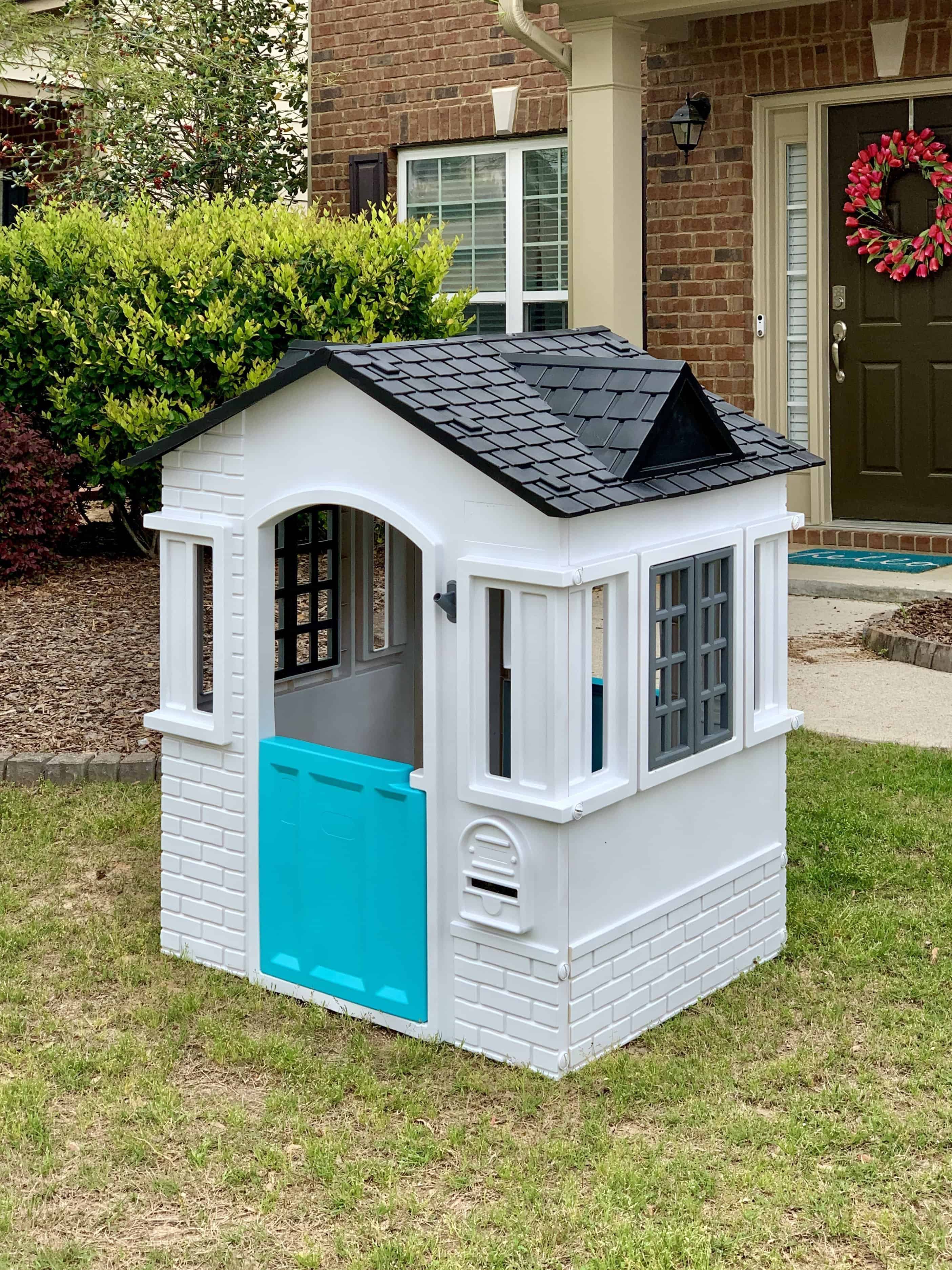 This DIY Plastic Playhouse Makeover was SO easy to do! I loved being able to play with fun colors, and honestly wish I could paint our actual house like this! 😉
Since we have boys, I created a Little Tikes Plastic Playhouse Makeover that was pretty gender neutral. You could really do any color combination you can think of with this!
Related: Cozy Coupe USPS Mail Truck Makeover
The best part? How fast and simple this Little Tikes Plastic Playhouse Makeover is! I painted this plastic playhouse in just 1 weekend.
How to Makeover a Plastic Playhouse Like a Pro
If you're looking for a little inspiration, Little Tikes has a great selection of new playhouses and colors!
I'm laying out below the full step-by-step how to paint a plastic playhouse. Just let me know if you have any questions on any of this!
Want to learn how to upcycle and paint a plastic playhouse? Read on for the easy instructions.
Note: Some links may be affiliate links. That means I may make a commission if you use my links to purchase, at no extra added cost to you! I only recommend products that I personally love and believe in. Full disclaimer here.
Supplies You'll Need to Paint a Plastic Playhouse
I was able to get all of the items I needed to paint our playhouse from our local hardware store. I chose to do a very basic makeover, so all I needed were my paint colors (black roof, charcoal shutters, white house, blue door), a spray primer and a spray sealer.
I've linked all of my supplies below on Amazon and Home Depot depending on what's easier for you! Home Depot will let you easily do in-store pickup of all of these items in just a few hours if you don't want to wait on shipping.
Wondering what kind of paint will stick to a plastic playhouse? After doing a lot of research, I used Rustoleum's 2X line. Whatever spray paint you choose for your plastic playhouse makeover, be sure it's made for PLASTIC.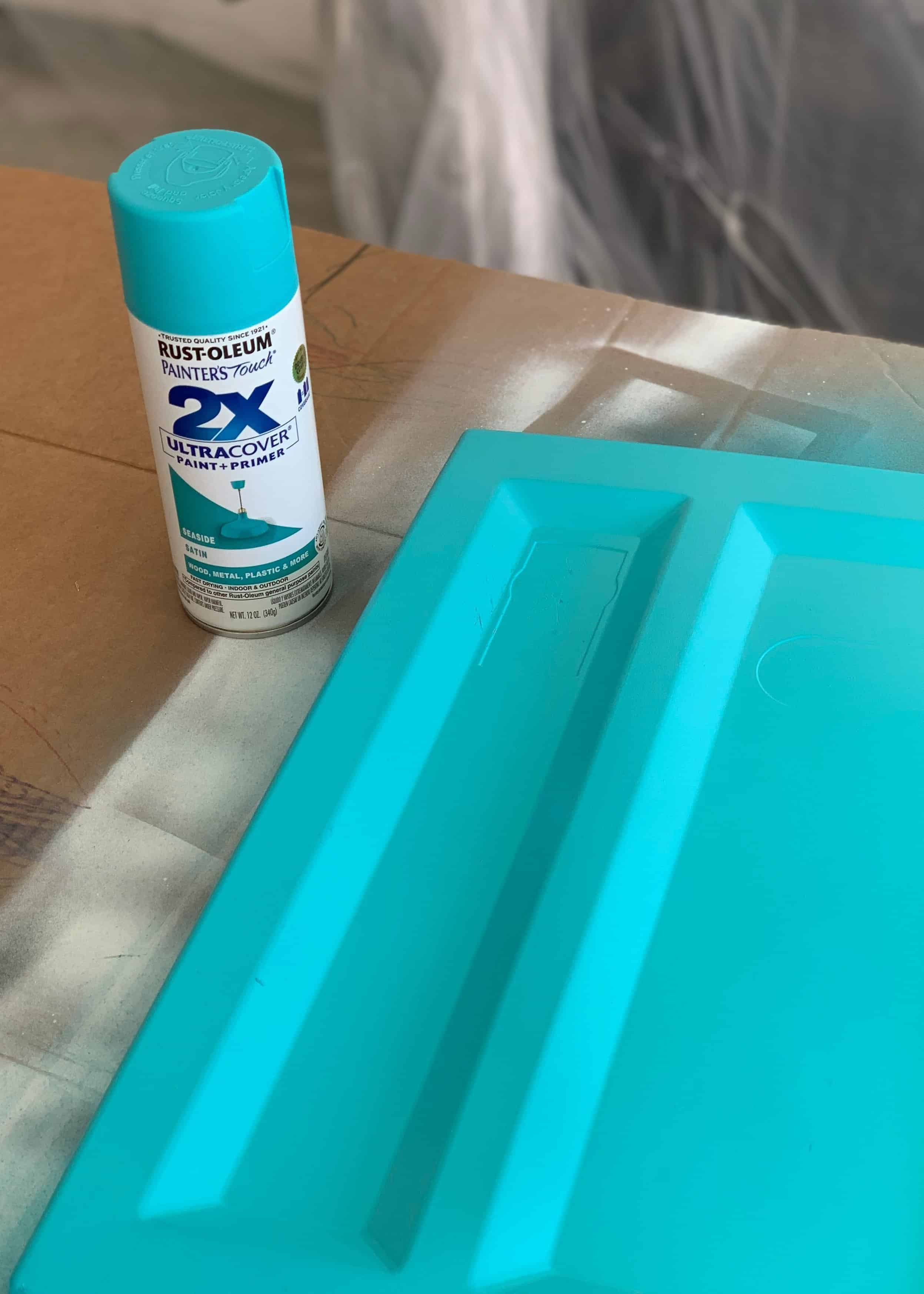 Spray Primer x 1 can (Note: you only really need to prime the doors. If you want to prime the entire house, I recommend more cans)
Plastic Friendly Spray Paint: body = 3 cans, roof = 2 cans, door = 1 can, shutters = 1 can
Spray Sealer x 2 cans
Spray Paint Colors I Used to Upcycle and Paint the Plastic Playhouse
Black Roof: Canyon Black
Gray Shutters: Dark Gray
Blue Doors: Seaside
White Interior/Exterior: White
Note: it doesn't really matter what finish or sheen you use. Totally personal preference!
Home Depot: Links to find the primer, white spray paint, gray spray paint, black spray paint, blue spray paint, spray sealer, drop cloth
Amazon: Links to find the primer, white spray paint, gray spray paint, black spray paint, blue spray paint, spray sealer, drop cloth
How to Paint A Plastic Playhouse
1. Take the playhouse apart. It's MUCH easier to paint each piece individually versus taping off sections. Not only is it easier to apply the paint, but if you apply tape over any of the pieces after painting, the tape WILL pull your paint off.
Be sure you pop the doors and shutters off! They are a little tough to get off but trust me that you don't want to skip this step.
2. Clean the playhouse prior to painting. If it's been outdoors be sure you do a good scrub both on the outside and inside! Let your playhouse totally dry. To be safe, I let mine dry for 24 hours before painting.
3. Paint the playhouse pieces using a canvas drop cloth. You can absolutely use a layer of cardboard too, but there is a small chance that your painted pieces might stick to the cardboard. Pieces will for sure stick to plastic drop cloths, so avoid those!
4. Double check that your spray paint is made for PLASTIC. This is super important for your plastic playhouse makeover! If you accidentally bought the wrong spray paint, the paint won't stick to your playhouse as well. It might also chip more easily.
5. Prime the playhouse. I highly recommend priming both sides of the playhouse door, as it's made of a different plastic than the rest of the house and is pretty slick. I ended up applying two coats to the door, and then lightly dusted the rest of the playhouse pieces prior to painting. No need to sand your playhouse! Check the directions on your primer and allow your primed pieces to fully dry before applying color.
6. Spray paint the playhouse. Once your primed pieces are totally dry, paint your playhouse whatever colors you would like! I chose to paint our Little Tikes Playhouse white, with a black roof, dark gray shutters and flag pole and a bright blue door.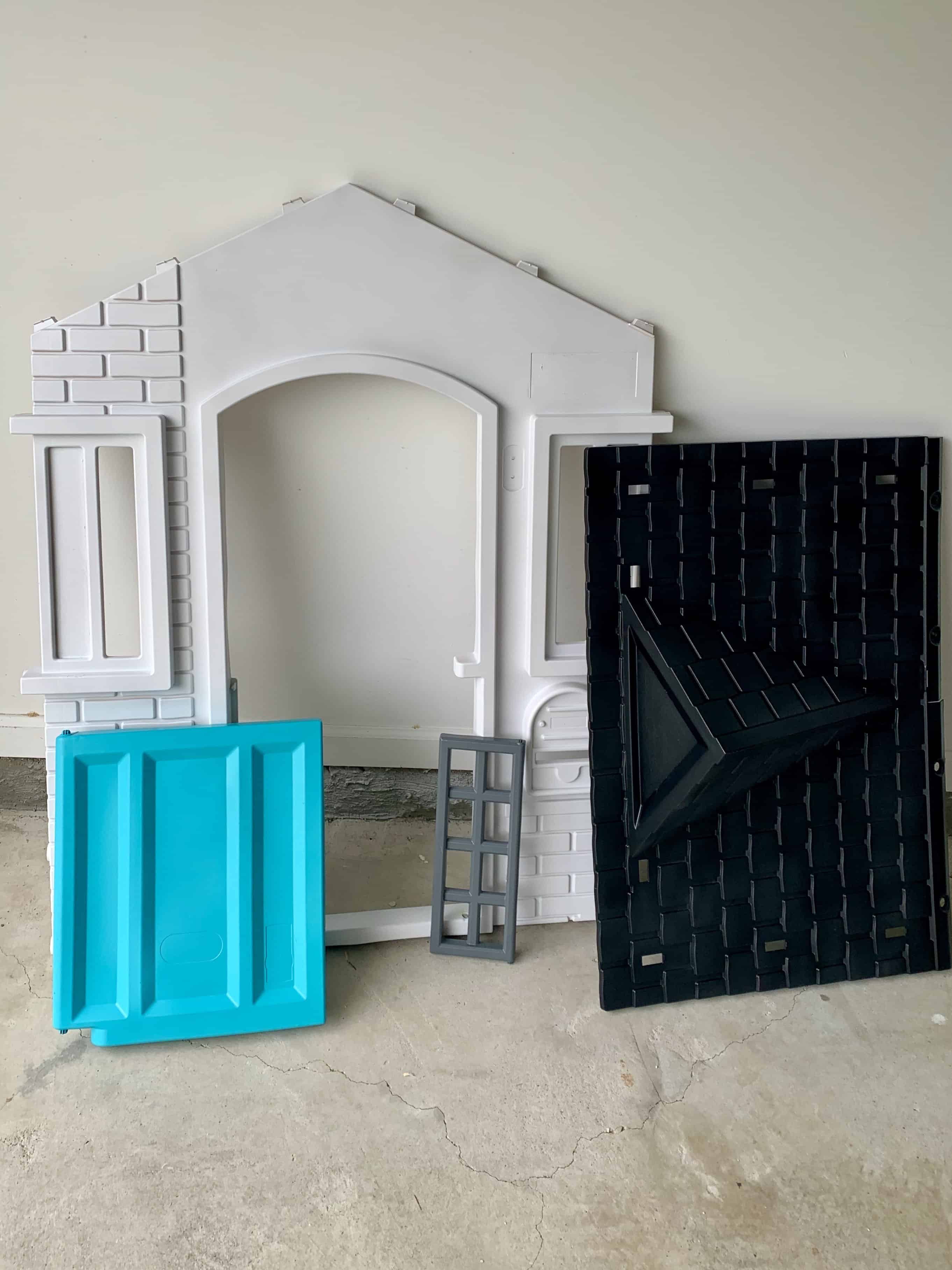 I applied two coats on each side of every piece. I recommend starting with applying spray paint on the BACK SIDES FIRST, just in case your pieces stick. This way your touch ups before sealing are minimal!
I recommend spray painting your pieces in a very well-lit area. I thought I had covered every surface of the body of the playhouse while spray painting at dusk, only to realize in the bright sun the next morning I had missed a bunch!
Make sure you read your spray paint cans for the ideal temperature for painting. Many spray paints will not apply correctly if it's too cold or too hot outside. If you're someplace like Atlanta, that gets a ton of pollen this time of year, you'll also want to avoid painting your playhouse outside. I chose to paint ours in the garage with the door open for this reason.
Related: Stunning Ikea Bedroom Hacks You Cannot Afford to Miss
7. Apply sealer. Be sure you let your playhouse pieces totally dry for 24 hours before sealing. I sprayed the entire house with two coats of sealer. I also sprayed the door with four coats, as this part of the house is touched the most (and the doors can chip easily). Heads up that even after all of that, you might need to touch up the door after popping it back into place.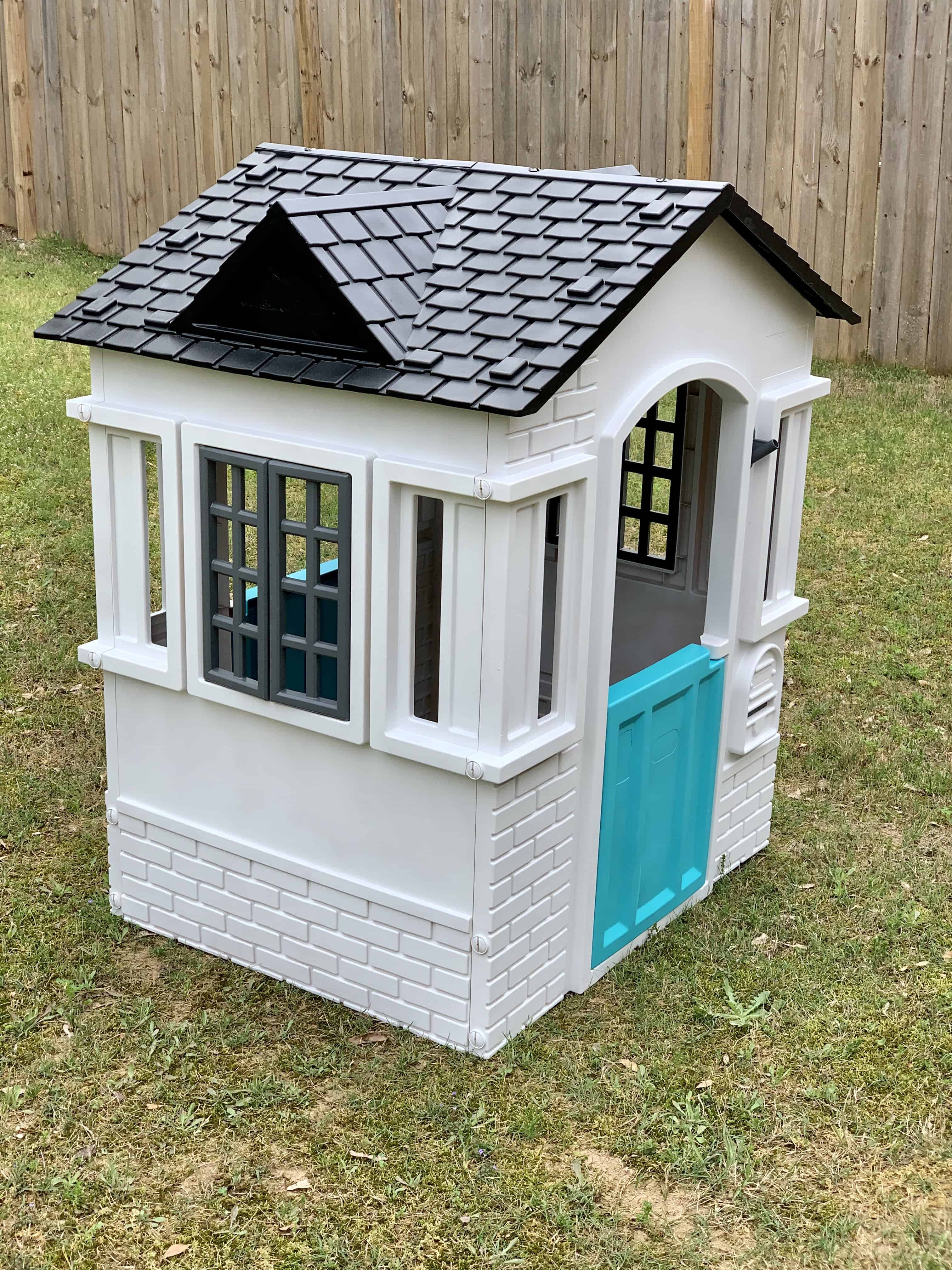 I am totally obsessed with our plastic playhouse makeover! This is such a fun project for kids of any age and is a great way to bring new life to well-loved toys.
Are you excited to upcycle a plastic playhouse too? The possibilities are endless for make believe! Upcycle your own outdoor toys to give them new life. I'm excited for my boys to have this space to play and use their imaginations.
Made over your own playhouse? Tag me today! I love seeing your projects!
Mention @simply.siobhan or tag #MimosasAndMotherhood!