20 Cat Crafts for Preschoolers & Toddlers
Calling all cat lovers! These easy cat crafts for preschoolers are the cat's meow!
As a family who loves kitties, my littles are always talking about how much they adore their furry friends. And who can blame them? Cats are cuddly, full of personality, make them giggle with their endless entertainment and are one of the easiest sounds to imitate for even the youngest toddlers.
Plus, who doesn't love Pete the Cat, Splat the Cat and The Cat in the Hat??
We find a lot of craft inspiration from our daily life, and while I was on the hunt for a fun option for our family to do on a rainy day, I found so many great cat crafts for toddlers that I knew I had to share.
Whether your family also has a kitty, or your child just loves them, cat crafts are a great way to spark creativity. With 20 adorable cat crafts for preschoolers on this list, you're sure to find one your little ones will love too. Plus, most of these can be made with items you probably already have at home, like acrylic paint, glue sticks, black tissue paper and a good old black marker.
Note: Some links may be affiliate links. That means I may make a commission if you use my links to purchase, at no extra added cost to you! I only recommend products that I personally love and believe in. Full disclaimer here.
Cute Cat Crafts for Preschoolers & Toddlers
These kitty crafts will delight your feline loving tots! Now the biggest question: which one do you make first??
Paper Bag Cat Craft
Remember the joys of homemade puppets? Your preschoolers will love creating this super easy paper bag puppet craft with you, and have a blast with playing with it for hours after, too! This craft is created with a free printable cat template available at the link below.
Cute Cat Bookmarks
Instead of using random scraps of paper, you can whip up these super colorful and cute feline themed cat bookmarks out of paint chips! How cute are those little front legs??
Your littles will love drawing on the different colors of paint chips for this fun cat craft, though a grown up will have to help with cutting. This would look adorable over the edge of a book, or poking out the top of a greeting card as a handmade gift.
Easy Origami Cat
Origami allows you to create art of out folded paper, and this easy origami cat is a great way to introduce paper folding techniques to kids (and a wonderful way for them to work on fine motor skills).
Plus, your children will love that they get to decorate these cute little guys however they would like! Older kids will love folding theirs into more complicated designs.
Cute Cat Pencil Holder Craft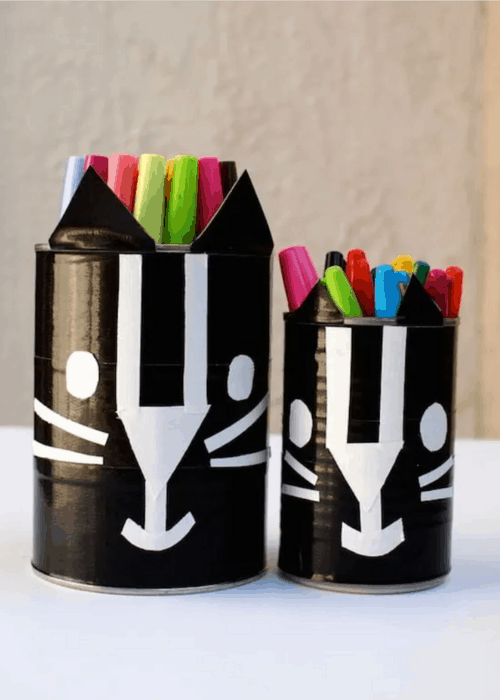 This easy duct tape craft is so simple and a great boredom buster any time of the year! Duct tape comes in a wide variety of colors, which means you can make these cute kitties in whatever color your kids like.
You can use them to hold pens and markers (or, make them during Halloween to hold some Halloween treats)! This is a great craft for a child's hands as the tape is so easy to use for creative expression.
Cat Headband Craft
This is a fun and easy headband craft that will look so adorable on your kiddo! Download the free printable template and make it out of paper or print it out on card stock in black and white for kids to color in. That means this craft can be done by kids of all ages!
Easy Toilet Paper Roll Cat Gift Boxes
Toilet paper rolls are such a versatile craft material, with that great cardboard tube that can become anything you can put your imagination to. These cute little kittens are adorable enough for playtime, and as an added bonus they can also double up as GIFT BOXES, too!
Cat in the Hat Puppet Craft
Puppet crafts are a fun way to get your kid's imagination going for tons of pretend playtime. If you're a fan of Dr. Seuss's Cat in the Hat, this craft project is for you!
Paper Tiger Craft for Preschoolers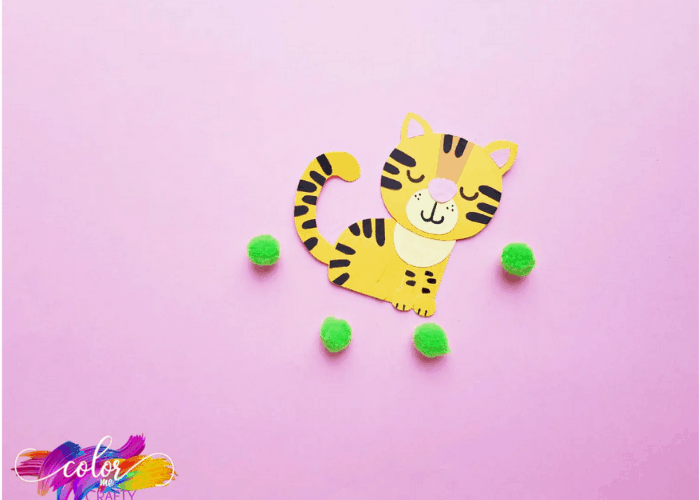 This fun paper tiger craft is enjoyable for all ages! The zoo isn't open all year but that doesn't mean that fun with animals can't happen year-round. With this fun paper tiger craft, the zoo can be brought to any classroom or your home!
Cat Mask Paper Plate
This paper plate cat mask craft is the perfect activity for little kids as they can use it for pretend play after they complete it. Make a whole family of cute cats for hours of play with these simple cat masks.
This is a very basic paper plate cat craft, and is great inspiration for making your own.
Halloween Cat Crafts for Preschoolers
Spooky season is the perfect time for cat crafts! If you're searching for options that are great for that time of year, check out the next few Halloween black cat crafts! Looking for more easy Halloween crafts? Be sure to also check out Easy DIY Halloween Crafts for Toddlers and Easy Pumpkin Crafts for Toddlers, too!
Black Cat Pumpkins
Have black paint? You can make this black cat pumpkin! We love this spooky and adorable black cat pumpkin project! Use different shaped pumpkins to get a variety of black kitties for your porch. Plus those cat ears and googly eyes are so cute!
Black Cat Handprint Craft
Need an easy and quick Halloween craft? This simple black cat handprint craft can be created faster than you can say BOO! With just black construction paper, scissors, glue and a pencil, you and your preschooler can create this adorable craft fast.
This simple craft is the perfect accompaniment for your Halloween craft lineup!
Paper Plate Black Cat
Paper plate crafts are so popular for good reason. This black cat paper plate craft is easy for even the littlest crafters to help with. We recommend you paint the plates ahead of time before letting your toddler help you assemble the kitty cat.
Black Cat Pumpkin
A black cat pumpkin couldn't be more perfect for Halloween, right? This cute black cat craft is loads of fun for kids of all ages! Mix it up with white pipe cleaners for the whiskers.
Toilet Paper Roll Black Cat
Toilet paper rolls make such great craft supplies! Not only are they inexpensive because you already have them at home, but they're also a wonderful way to teach your children about recycling and upcycling. Learn how to make this easy toilet paper roll black cat with cute pipe cleaner whiskers!
If you love black cats as much as we do, you'll also love these black cat facts!
Also, if you love upcycled crafts, be sure to give these a peek, too:
Create a Plastic Playhouse Makeover!
Giant Gingerbread Man Christmas Craft
DIY Cat Crafts Create Hours of Fun
I hope you loved this list of cat-themed crafts. If any of these cat crafts for preschoolers strike your fancy, let me know in the comments below! These adorable options are perfect for year-round, and a great option when you need a last minute project on a rainy day.
If you're looking for even more craft inspiration for your kids, be sure to also check out
Happy crafting!