Mess Free Smush Paintings for Kids
If the idea of painting with your toddlers sounds like a nightmare, you'll love no mess smush paintings! Mess free smush paintings (or smoosh paintings) are a versatile activity that allows your little one to create without covering the rest of the house in paint.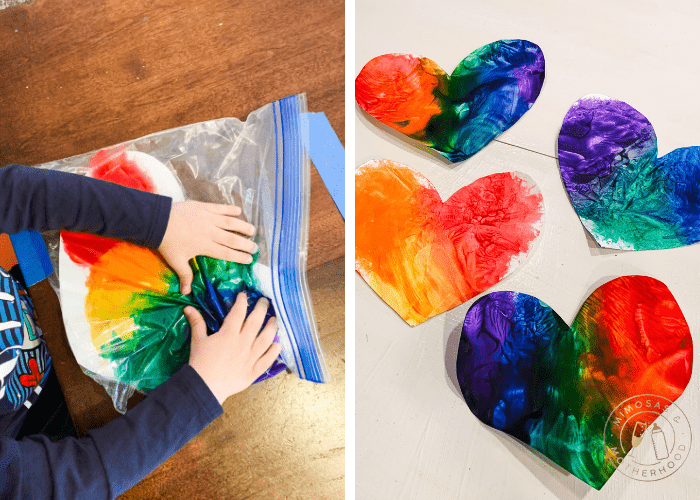 Raise your hand if you avoid paint activities with your toddlers because of the mess? You're not alone! As a mom of two toddlers it can sometimes feel like prepping for a fun craft with them also means I have to prep to keep the mess contained, too!
A friend introduced me to smush paintings (also known as smoosh painting) and I was immediately hooked. This easy activity can be used to create beautiful art independently.
They can easily create beautiful works of art, gifts, cards or even cute Valentine's (like we were doing). It's an easy project that requires minimal setup and materials, and best of all is MESS FREE (woohoo)!
Note: Some links may be affiliate links. That means I may make a commission if you use my links to purchase, at no extra added cost to you! I only recommend products that I personally love and believe in. Full disclaimer here.
Smush Painting Benefits
Smoosh paintings are such a fun activity for babies and toddlers. Plus, they are an awesome sensory activity, too:
•Touch – Your child notices the smooth texture and feels the cool temperature of the paint as they smush it around.
•Sight – While painting, your child observes the different colors and how they blend together.
•Cause-and-effect – Pushing the paint and mixing colors allows your child to experiment with cause-and-effect!
Materials needed for smoosh painting
To create smush art, you only need a few materials that you probably already have in your home:
Cardstock, construction paper or another kind of mixed media paper
Washable Paint (any color combination your kids like!)
How do you make a smush painting?
Making one of these cool pieces of art is so easy. Just follow these mess free smush painting instructions.
First, decide what size piece of paper you would like to use. It needs to fit inside of the gallon ziplock bag. You can either fold a piece in half, cut it to size or cut it into a fun shape like we chose to do.
I recommend using a thicker paper like cardstock or construction paper if you want to save the art. Otherwise, you can use any kind of paper.
After placing the paper in the freezer bag, apply small dots of paint to the paper. You can also apply the paint to the paper BEFORE placing it in the bag, but for me it was easier and less of a mess risk to do it once it was already in there.
Close and seal the bag tightly, before sure that the Ziploc is totally sealed. If you have a strong toddler, you can even tape the bag closed for extra security.
Next, tape your bag to the work surface your child will be using. For toddlers using a table is perfect, while for babies you can tape the bag to your floor. By taping it onto a surface you prevent your child from being able to easily pick it up and try to open it 😉
Let your little artist go wild smushing the paint around on the paper! When they're finished, just remove the paper from the bag and allow it to dry.
We used our heart shaped smoosh paintings as Valentines gifts!
More No Mess Smush Painting Ideas
These creative art projects are so easy for babies and toddlers to make their own beautiful creations.
Create a piece of framed wall art that's perfect as a gift by matching the size of the paper to the size of an old frame.
Cut out different shapes for a themed craft. We did heart shaped smoosh paintings for Valentines Day, but you could do any shape your toddler desires.
Apply painters tape prior to popping it into the ziplock bag to create "resist art." After the paint dries just peel off the tape to reveal the design.
Another way to make resist art involves watercolor paper. Be sure to use the right tape for watercolor paper so that your paper doesn't rip.
No mess smush paintings also make great cards! I put an extra piece of paper in the bag to use up some of the remaining paint and realized that after letting it dry and folding it in half, it makes an incredibly unique card.
Want more easy toddler activities? Try these!
How to Make Sensory Bags for Babies & Toddlers
How to Dye Rice for a Sensory Bin
20 Cat Crafts for Preschoolers & Toddlers
Mess Free Smush Paintings Are So Easy
Will you try No-Mess Smush Painting with your toddler? Let me know in the comments, or tag me on Instagram @simply.siobhan or using the hashtag #mimosasandmotherhood.