Free Valentine Printables for Kids
Valentine's Day is almost here, and love is in the air! Let your child create their own Valentine cards this year with this set of 4 free Valentine printables.
Our family loves Valentine's Day! It such a wonderful way to shower each other with love, starting from the very basics of expressing it to each other, as well as showing love and friendship with friends. We do the 14 Days of Love Challenge every year, as well as quite a few crafts (like these adorable Free Printable Valentine's Day Cards for Kids to Color or this huge collection of Valentine crafts).
This year I wanted to create something that would be easy for families to do at home with limited activities. This set of 4 valentine printables were designed with that in mind!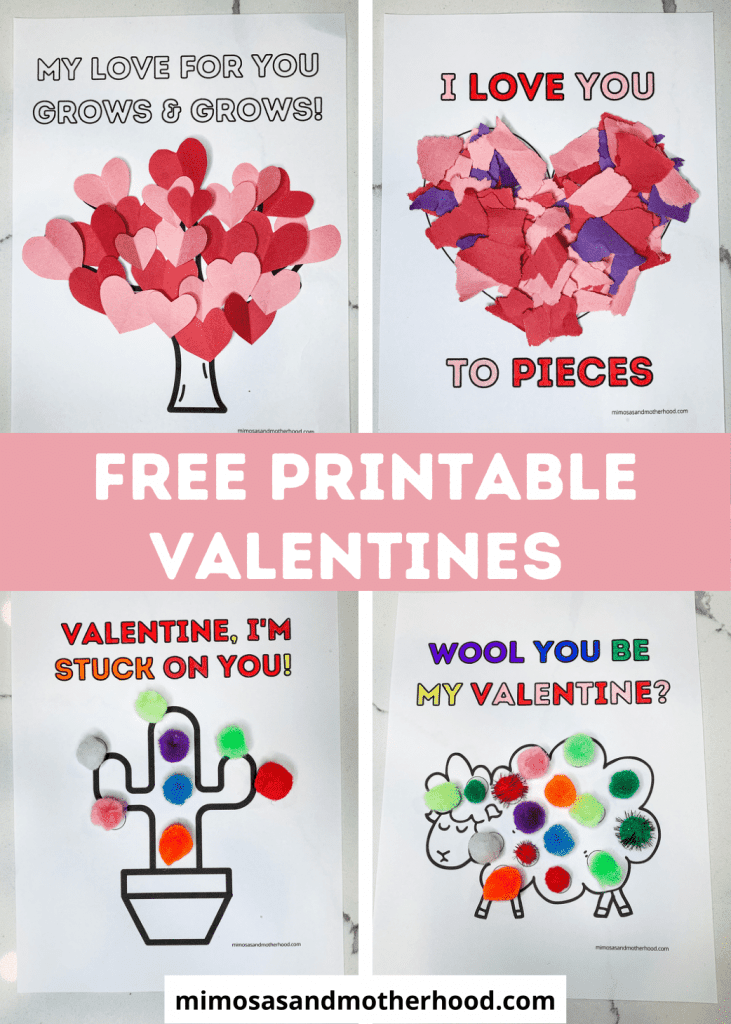 All you need are a few simple supplies: a printer, some crayons or markers, craft glue, construction paper and pom poms to finish up these free printables. Don't have pom poms? Crumple up construction paper into balls, and use that instead!
These sheets would make a cute and easy Valentines Day gift, too. Get the whole family involved! We colored these together as a family, and my boys loved getting to customize their own pages.
Free Valentine Printables
These printable valentines are a great way to get your littles involved with the fun this year. The printable activities come in black and white so that you can decorate however you would like!
Color them with a Valentine's day theme using your favorite Valentine's day color combos, or do something entirely different! The choice is entirely up to you.
This package includes 4 Valentine Printables: 2 that can be made using pom poms, and two that can be crafted using construction paper.
I created this free collection of printable Valentine's Day activities for toddlers based on cute crafts my own children have made over the years. These are free for you to use for personal use, and were created to be easily printed at home.
Just print out the pages you want to use, set them up with coloring supplies, a little craft glue and pom poms, and let them enjoy!
Need the perfect, easy Valentine's dessert, too? Be sure to also check out Valentines Milk Chocolate Cake Mix Cookies!
Pom Pom Valentines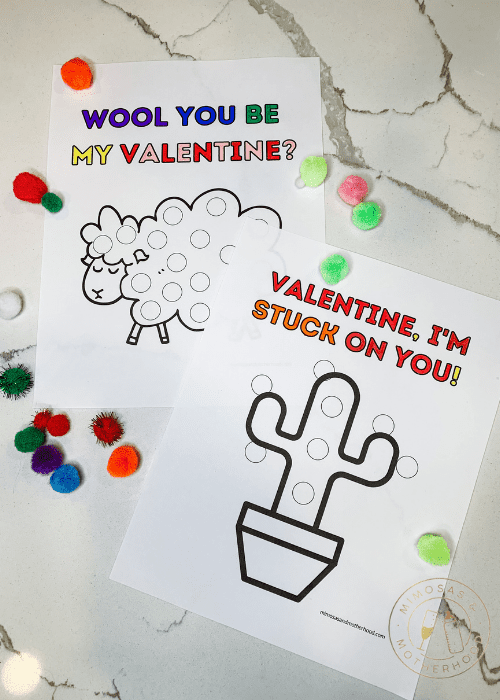 Wool you be my Valentine? These two valentines are such a cute craft! Just print out the PDF file and color. Glue the pom poms into the circles on the sheet to finish this easy craft.
Valentine, I'm STUCK on you!
My Love For Your Grows & Grows Craft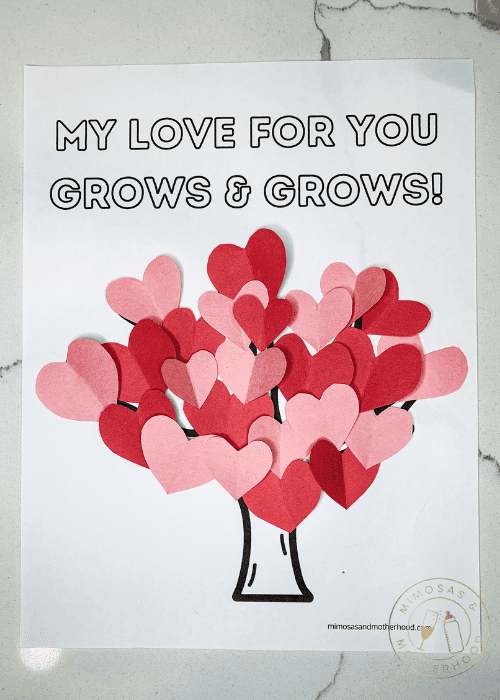 For this Valentine's Day craft, fold a piece of construction paper in half. Using a pen, draw half of a heart shape.
Cut out the shapes and let your child glue them to the tree printable. Use as many hearts as you would like for your final creation!
Love You to Pieces Craft
Recycle those leftover construction paper pieces from the tree craft (or any construction paper)! Tear them up into pieces of various sizes, and let your child fill in the heart using glue and as many pieces as they would like.
Get Your FREE Printable Valentines' Day Activities
This printable book is free for you to use, but ONLY for personal use. Enter your information below to get yours, and it will be emailed to you immediately!
For best results, download the PDF file to your computer before printing. You can print every page, single pages, and multiples of any one you would like once you open the document!
If you use it, I would love to see! Be sure to tag me on Instagram @simply.siobhan and using the hashtag #Mimosasandmotherhood.
Need a fun classroom party activity? Don't miss Free Printable Valentine's Day Bingo Cards (24 Card Set)!
Simple & Easy Valentines Printables Add Extra Love!
This time of year is so fun and full of love. I hope you loved these free Valentine's Day printables. They would make a great gift for a teacher or grandparent, too! You can even use them just as coloring pages if your children prefer.
What are you favorite Valentine's Day activities? If you love this blog post, please share it so other families can get in on the fun, too. Happy Valentine's Day!