35 Romantic Babymoon Destination Ideas
As an expectant parent, taking a babymoon (also known as a baby moon) can be a wonderful way to recharge, connect, and celebrate your last trip as a couple before the baby arrives. Check out this collection of 35 romantic babymoon ideas, both in the US and abroad.
What is a babymoon?
When it comes to preparing for the birth of your baby, one of the newest but most fun traditions that many parents-to-be look forward to is a babymoon. A babymoon is a trip for you and your partner to have one last hurrah before your lives change forever when you become parents.
A baby moon is a special time to take a break from the hustle and bustle of everyday life and bond with your partner while preparing for your little one's arrival. Think of it as one last vacation or a second honeymoond, just the two of you, before becoming parents.
Note: Some links may be affiliate links. That means I may make a commission if you use my links to purchase, at no extra added cost to you! I only recommend products that I personally love and believe in. Additionally, I am not a medical professional and this post is not meant to be medical advice. This article is for informational purposes. Full disclaimer here.
What should you do on a babymoon?
Many couples want their babymoon to be a romantic getaway. When planning yours, consider activities that promote relaxation, stress relief, and quality time with your partner. Here are some ideas to get you started:
Go to the beach: Lounge in the sun, take long walks, and swim in the ocean.
Have a spa day: Indulge in couples massage (prenatal massage for mom for the win!), facials, and other pampering treatments.
Take a scenic drive: Enjoy the scenery while taking a leisurely drive.
Go on a hike: Explore the great outdoors while getting some exercise.
Enjoy a romantic dinner: Treat yourselves to a fancy dinner at a nice restaurant.
Attend a concert or show: Check out local entertainment options for a fun night out.
Take a cooking class: Learn to prepare a new cuisine together.
Go on a city tour: Explore new cities while learning about their history and culture.
A baby moon can be taken before the birth of any child! My husband and I actually took a second babymoon before the birth of our second child, bringing our oldest son with us.
If you're planning a trip with a child, keep in mind that some of the above activities might not be a good fit and you might want to consider other babymoon ideas to do.
What week is best to take a babymoon?
The best time to take a babymoon is during the second trimester, between weeks 14 and 28. During this time, most women have passed the nausea and exhaustion of the first trimester, and the risk of complications is relatively low.
However, it's always best to consult with your healthcare provider before planning any travel during pregnancy. There are potential risks with travel for pregnant women depending on your pregnancy and baby, and your doctor might recommend you stay closer to home instead of taking long flights.
How many nights do you need for a babymoon?
The length of your babymoon is entirely up to you, but most couples choose to stay for a long weekend or a week. Keep in mind that traveling during pregnancy can be tiring, so plan a schedule that allows for plenty of rest and relaxation.
More and more hotels are now offering a babymoon package, so don't forget to check when booking.
How late is too late for a babymoon?
Many pregnant people choose to avoid traveling in the second half of the third trimester just in case of early labor or unexpected complications. Many doctors also won't approve travel after a certain point in pregnancy.
It's a good idea to be proactive in planning, and plan your babymoon for the second trimester just to be safe. The third trimester exhaustion gets harder and harder the closer to baby's arrival!
35 Destination Ideas for Your Babymoon
Planning the perfect babymoon? Here are 35 babymoon ideas along with what makes each a great option for a babymoon. This list includes both destinations in the United States and international options that are no more than an 8-hour flight from the United States.
Whether you choose to do a road trip or an epic vacation, you're sure to find some ideas you love with this list of best babymoon destinations.
Top Babymoon Destinations in the United States
Hawaii: With its tropical weather, stunning beaches, and laid-back atmosphere, Hawaii is a top destination for a relaxing and romantic babymoon. Couples can indulge in spa treatments, take scenic drives along the coast, and enjoy delicious Hawaiian cuisine.
Napa Valley, California: Known for its vineyards and picturesque countryside, Napa Valley is perfect for couples who enjoy wine tasting, fine dining, and luxurious accommodations.
Sedona, Arizona: This stunning desert destination is ideal for couples looking for a peaceful and spiritual babymoon. Enjoy hiking in the red rocks, relaxing at the spa, and experiencing the area's unique energy.
Charleston, South Carolina: With its historic architecture, charming streets, and fantastic restaurants, Charleston is a great choice for couples who love culture and cuisine with nearby sandy beaches.
San Juan Islands, Washington: These idyllic islands offer a tranquil and serene escape from the hustle and bustle of everyday life. Couples can explore the outdoors, enjoy farm-to-table cuisine, and soak in the island's natural beauty.
Newport, Rhode Island: This coastal New England town is known for its gorgeous mansions, charming streets, and delicious seafood. It's a great option for a relaxing and romantic babymoon.
Asheville, North Carolina: Surrounded by the stunning Blue Ridge Mountains, Asheville offers a laid-back vibe, great restaurants, and plenty of outdoor activities.
Santa Fe, New Mexico: Known for its rich history and vibrant arts scene, Santa Fe is perfect for couples who love culture, cuisine, and the great outdoors.
Park City, Utah: This mountain town is perfect for couples who love skiing, snowboarding, and cozying up in a rustic cabin.
New Orleans, Louisiana: Love delicious food? The french quarter and historic district offer some fantastic options to fuel those pregnancy cravings.
Key West, Florida: This laid-back island offers a tropical escape without leaving the United States. Couples can enjoy fresh seafood, beachfront resorts, and plenty of water activities in the Florida Keys.
Amelia Island, Florida: A charming beach town with a small-town feel, Amelia Island offers fantastic restaurants, beautiful beaches, and plenty of outdoor activities.
Lake Tahoe, California/Nevada: This stunning mountain lake offers a romantic and adventurous baby moon experience, with plenty of hiking, skiing, and cozy cabins to snuggle up in.
Savannah, Georgia: A charming Southern city with antebellum architecture, Savannah is perfect for couples who love history, culture, and great food. In fact, this is where me and my husband went for our babymoon while I was pregnant with our first child!
Thinking about a getaway that's a short drive or day trip? Staycations are also the perfect way to have a more relaxing babymoon instead of a pre-baby getaway.
Before the birth of our third child, my in-laws took our children for a long week. My husband and I planned a few special activities within a short drive of where we live, and just enjoyed the chill time together. It was just as perfect as our previous getaways.
Top International Babymoon Ideas
Looking for more of a luxury resort option? Be sure your passport is up to date for these international flights and babymoon ideas!
Cancun, Mexico: With its white-sand beaches, turquoise waters, and luxurious resorts, Cancun is a top destination for a tropical babymoon.
Bahamas: The Bahamas offer a perfect blend of relaxation, adventure, and natural beauty. Couples can enjoy stunning beaches, water sports, and excellent cuisine.
Jamaica: Known for its vibrant culture, reggae music, and delicious jerk chicken, Jamaica is perfect for couples who love to immerse themselves in local culture.
Puerto Rico: A Caribbean island with a rich history, beautiful beaches, and fantastic food, Puerto Rico is a great option for a babymoon.
Costa Rica: With its lush rainforests, stunning beaches, and abundant wildlife, Costa Rica offers an incredible outdoor adventure for couples who love nature.
Tulum, Mexico: This bohemian beach town on the Caribbean coast offers a laid-back vibe, great food, and stunning scenery.
Dominican Republic: With its all-inclusive resorts, beautiful beaches, and affordable prices, the Dominican Republic is a great option for couples on a budget. We love their various all inclusive resort options!
Aruba: This Dutch island offers stunning beaches, fantastic cuisine, and excellent shopping.
Bermuda: A British island with pink-sand beaches, charming architecture, and plenty of outdoor activities, Bermuda is perfect for couples who want to relax and explore.
St. Lucia: Known for its stunning natural beauty, including the iconic Pitons, St. Lucia offers a romantic and adventurous babymoon experience.
Turks and Caicos: This Caribbean paradise offers some of the world's most beautiful beaches, excellent water sports, and delicious seafood.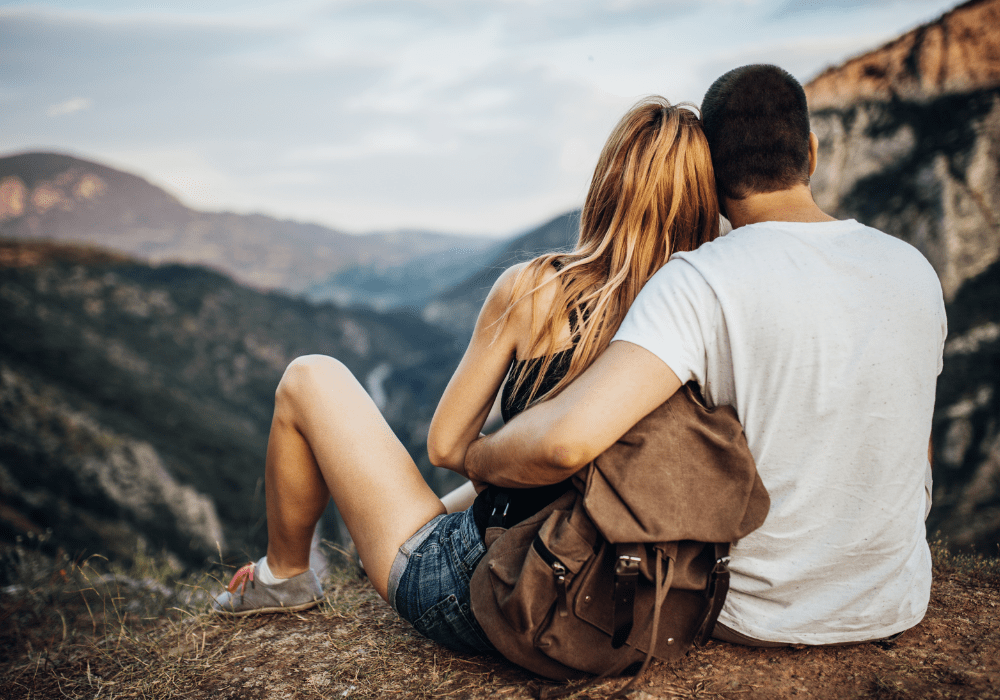 Banff, Canada: Known for its stunning alpine scenery, Banff offers a babymoon experience that is both romantic and adventurous. Couples can enjoy skiing, hiking, and cozying up in a mountain cabin.
Vancouver, Canada: This vibrant city offers a fantastic blend of urban and outdoor experiences, with great restaurants, beautiful parks, and stunning waterfront views.
Montreal, Canada: With its charming Old World architecture, fantastic food scene, and romantic streets, Montreal is a great option for couples who love culture and cuisine.
Quebec City, Canada: Another charming Canadian city with European charm, Quebec City offers a romantic and cozy babymoon experience.
Reykjavik, Iceland: With its unique landscapes, natural hot springs, and stunning views of the Northern Lights, Reykjavik is a top destination for adventurous couples.
Dublin, Ireland: This charming and historic city offers plenty of romantic experiences, including pub crawls, literary tours, and beautiful parks.
Barcelona, Spain: With its stunning architecture, delicious cuisine, and vibrant culture, Barcelona is perfect for couples who love art, food, and romance.
Paris, France: Known as the city of love, Paris offers plenty of romantic experiences, from strolling along the Seine River to enjoying croissants at a cafe.
Santorini, Greece: This picturesque Greek island offers stunning views, beautiful beaches, and plenty of romance.
Bali, Indonesia: With its tropical beaches, beautiful temples, and rich culture, Bali offers a babymoon experience that is both relaxing and adventurous.
You might also enjoy these articles:
How to Relieve Pelvic Pain During Pregnancy
FREE Positive Printable Birth Affirmation Cards To Get You Through Labor
These are just a few of our favorite babymoon ideas. No matter what type of experience you're looking for, there's sure to be a destination on this list that fits the bill.
From tropical escapes to mountain getaways to charming European cities, these 35 destinations offer a range of options for a memorable and romantic babymoon for expectant parents.
Let me know in the comments if I missed a perfect spot you love!