Balanced Breastfeeding Course Review
Breastfeeding is a beautiful and natural way to nourish your baby, but it can come with its own set of challenges. For pregnant women, new moms, and moms-to-be who want to learn more about breastfeeding, taking an online breastfeeding course like the Balanced Breastfeeding Course can be a great way to gain knowledge and confidence.
When I was pregnant with my oldest child, I (foolishly) assumed that breastfeeding would come easy to me. I had read the books, was preparing for a natural childbirth and taking childbirth classes, and felt really confidently that I had nothing to worry about.
Boy, was I wrong. I struggled through a torturous first few weeks. I saw two different lactation consultants and tried so many things, but no matter what I did I couldn't get my little guy to latch consistently, or make enough milk while pumping to feed my first child.
To be completely transparent: I felt like a huge failure. It was devastating for me. But then I found out that three days after giving birth, 92 percent of the new mothers said they were having problems breast-feeding. NINETY-TWO. I had no idea!
For my second child, I prepared in a very different way. I researched the best lactation consultants in our area and got my hands on a much better breast pump. He also struggled with latching (turns out he had a lip and tongue tie, which we were able to get revised).
However, this time I was thrilled to finally be pumping enough to feed my baby, even though we weren't getting to have the breastfeeding experience I dreamed of.
So when my third child was born, I was completely shocked when he immediately latched after birth. I was overjoyed when we had zero issues with breastfeeding the first few days, but I also felt completely lost. I might have been a third time mom, but I was still clueless when it came to breastfeeding!
I knew if I wanted to be successful that I needed to quickly learn, and began reading books, talking to lactation consultants and decided to also look into virtual breastfeeding classes.
One of the best online breastfeeding courses available is the Balanced Breastfeeding Course, created by Katelyn Lauren, a certified lactation counselor and certified childbirth educator who runs the website Birthing Balance.
I learned SO MUCH from this course, which is why I wanted to write a review to help other mamas who might be searching for help, resources and answers too. This review is based on my own personal experience from taking this course.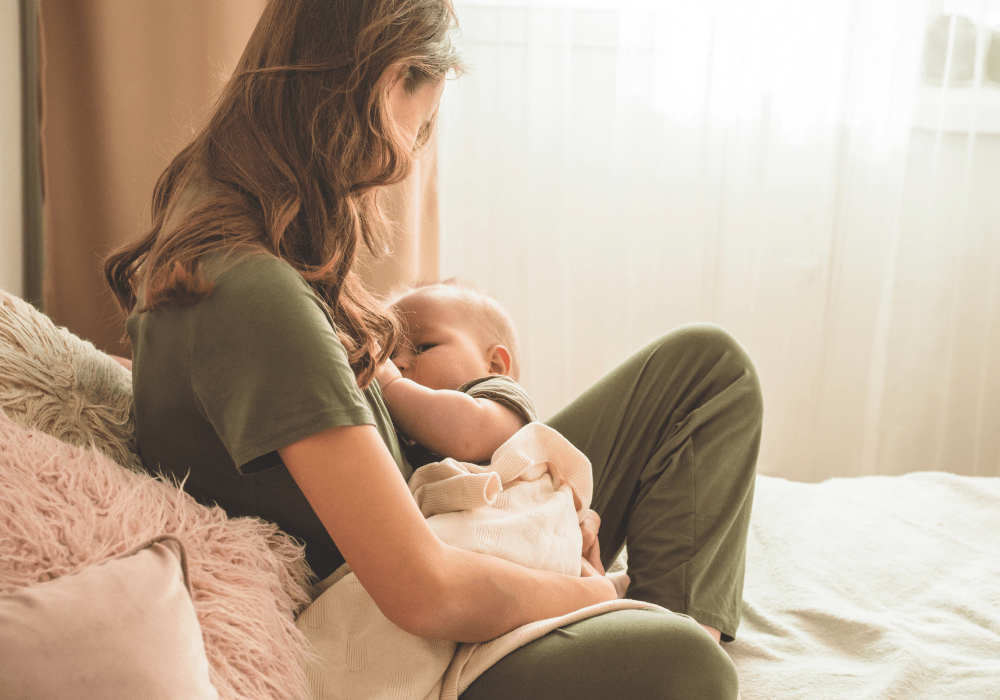 This article is written in partnership with Birthing Balance. However, all thoughts and opinions expressed are my own based on my own personal experience of taking their online breastfeeding course. Additionally, I am not a medical professional and this post is not meant to be medical advice. This article is for informational purposes. Some links may be affiliate links. That means I may make a commission if you use my links to purchase, at no extra added cost to you! Full disclaimer here.
What is the Balanced Breastfeeding Course?
The Balanced Breastfeeding Course is an online program designed to provide you with everything you need to know about breastfeeding, including tips for getting started, common breastfeeding problems and solutions, and how to continue breastfeeding as your baby grows. The course includes over 40 videos, downloadable materials, and quizzes to help you learn at your own pace.
One of the best things about the Balanced Breastfeeding Course is that it is based on evidence-based information, so you can trust that the information you're learning is accurate and up-to-date. Katelyn uses her experience as a lactation counselor and childbirth educator (and as a breastfeeding mom herself!) to provide practical advice and support throughout the course.
What does this online breastfeeding course cover?
The Balanced Breastfeeding Course is full of SO MUCH INFORMATION. It's truly the ultimate breastfeeding class. There are 40 videos totaling almost 300 minutes of go at your own pace instruction, plus downloadable PDFs and photos to help illustrate and reinforce what you're learning.
I love how this course not only has all of the basics you need when it comes to latching and breastfeeding, but also dives into pumping, breast and nipple pain, the anatomy of breastmilk and breast tissue, and how to navigate hurdles that might pop up for you on your breastfeeding journey.
Highlights of the Balanced Breastfeeding Course
I wanted to take a little bit of time to highlight the parts of this online breastfeeding course that personally really spoke to me. I am a third time mom, but my breastfeeding journey has been anything but easy.
I feel like with each of my births, I've learned a ton of information about not only producing breastmilk, but also what works best for my family. The parts that I'm highlighting in this online breastfeeding course review are just the things that resonate with me. There is so much more that might resonate with you!
Are you:
Worried you won't have enough breastmilk for your baby?
Overwhelmed by the idea of figuring out what your baby needs?
Nervous about returning to work and pumping?
Fearful about running into breastfeeding hurdles such as clogged ducts?
The Balanced Breastfeeding Course covers all of this, and so much more.
Ready to check it out? I'm thrilled to be able to offer a Balanced Breastfeeding Course discount for my readers: save 20% with code MIMOSAS!
Chapter 1: Breastfeeding Basics
This is a great chapter for first time moms, as it includes:
Breast Anatomy
Hormones
Stages of Breastmilk
Colors of Breastmilk
Foremilk Vs. Hindmilk
What's Breastmilk Made Out of?
What's Best for Baby to Drink?
5 Steps for Successful Breastfeeding
Chapter 6: Pumping 101
I wish I would have had this chapter with my first baby. It covers so many things that I learned with my second baby, and even a few things I didn't know this time around!
Pumping can be really difficult for many moms, and this chapter really goes into detail about a ton of aspects of it, including:
Flange Sizes
Using Your Pump
Tips for Expressing More Milk
Cleaning Your Pump + Parts
Using a Haakaa
Hand Expression
Storing + Freezing Breastmilk
How to Prepare Breastmilk
Ways to Use Breastmilk
Tips for Bottle Feeding
Chapter 10: Breastfeeding Hurdles
If I've learned anything this time around, it's that once you get past one breastfeeding hurdle, a new, different one might pop up. I struggled so much in the first month with cluster feeding and finding the right position for baby to get a deep latch with my flat nipples. Once we got past that I thought we were good, until my milk supply started being all over the place.
Katelyn covers so many common issues that moms go through in this chapter, with real solutions and tools to help. This course is so incredibly valuable, even if this is the only chapter you need:
Supply Issues
Overreactive/Slow Letdown
Dysphoric Milk Ejection Reflex (D-MER)
Cluster Feeding
Flat/Inverted Nipples
Hypoplasia
Jaundice
Sleepy Baby
The 4-Month Sleep Regression
Distracted Babies
Biting + Teething
Nursing Strike
Nursing Aversion
Lipstick Nipple
Milk Blisters
Tongue/Lip/Cheek Ties
Nursing Devices
Cup or Spoon-Feeding
Private Support Group
In addition to the course materials, the Balanced Breastfeeding Course also includes access to a private Facebook group where you can connect with other moms who are taking the course and get support and advice from Katelyn herself.
Ready to check it out? I'm thrilled to be able to offer a Balanced Breastfeeding Course discount for my readers: save 20% with code MIMOSAS!
Pros of the Balanced Breastfeeding Course
If you're looking for one of the best online breastfeeding courses, the Balanced Breastfeeding Course is a fantastic one to look into.
The course is broken down into easy-to-digest modules. The videos are informative and engaging, and I really like the downloadable materials that are offered as well. This makes it a great course for a variety of learning styles!
I love the clear and concise information, as well as how thorough the course is for new parents. There's a huge amount of information to help make sure you not only feel ready and confident to start breastfeeding, but also to navigate the challenges that will pop up along the way.
The Balanced Breastfeeding Course covers the full-range of education you need to be successful on your breastfeeding journey, from that very first latch (and how to get a good latch) and choosing the right breast pumps through navigating common problems like breast and nipple pain, supply issues and increasing breast milk production, and even weaning.
This course is also self-paced. You can revisit the information shared over and over again, which is especially helpful when you need to learn about something new that's come up.
The Balanced Breastfeeding Course is also much more affordable than working on an ongoing basis with a lactation consultant and taking in-person classes. It's also a wonderful platform for expectant dads and new dads to learn about breastfeeding to give them more insight and a better understanding to what mom is going through. Getting the whole family involved with lend help and general emotional support has been a huge part of my own successful breastfeeding journey this time.
Finally, there's the supportive community that comes with it through access to Katelyn's private Facebook group. When you're struggling with breastfeeding during the postpartum period, it really helps to not feel alone!
Overall, if you're looking for the best online breastfeeding classes, the Balanced Breastfeeding Course is definitely worth checking out. It's a one-time investment that will take you from those early days through the ups and downs of the first few months, helping you feel secure, confident and ready to breastfeed to hit your personal goals.
Ready to check it out? I'm thrilled to be able to offer a Balanced Breastfeeding Course discount for my readers: save 20% with code MIMOSAS!
You might also enjoy these articles:
Breastfeeding Tips for First Time Moms
With its evidence-based information, supportive community, and practical advice, this course can help you feel confident and successful in breastfeeding your baby.
An online class is a good start, but remember that if you're struggling with your body, unique situation or baby's needs, it's important to communicate with your healthcare providers. They can put you in touch with a certified lactation educator or international board certified lactation consultant, support groups or in-person lactation services, too.
I'm thrilled to be able to offer my readers a discount code for the Balanced Breastfeeding Course:
Save 20% with code MIMOSAS when you click here!