New Year's Eve Activities for Toddlers
Looking for New Year's Eve activities for toddlers? I've got you covered! Check out this great collection of New Year's Eve Celebration Ideas for Toddlers that is full of simple crafts, activities and creative ways that are perfect for ringing in the new year!
New Year's Eve is one of my favorite holidays, but as a parent of toddlers it can also be challenging. It's absolutely possible to make it a fun night for you AND your little ones without keeping them up until midnight!
For the past few years our family has celebrated New Years Eve without our children, as they were too young to grasp the holiday. This year our oldest is 3, and I am so excited to start planning some fun New Years Eve activities that include him!
Note: Some links may be affiliate links. That means I may make a commission if you use my links to purchase, at no extra added cost to you! I only recommend products that I personally love and believe in. Full disclaimer here.
Fun New Year's Eve Activities for Toddlers
This list of New Year's Eve Activities for Toddlers is full of fun activities to help your littles celebrate the holiday with you, while also keeping them entertained so you can enjoy it, too.
While your toddler is still probably too young to understand some of what New Year's Eve is all about, and most likely also won't make it until midnight, NYE can still be a great holiday for them to celebrate too.
These ideas are a great way to keep them occupied until the ball drop (or until they drop into bed). You'll find some great options to add to your own at-home new year's eve party! Even the littlest family members can get in on the fun.
If you love these toddler New Year activities make sure you also check out DIY Cardboard Treehouse and 20 Cat Crafts for Preschoolers & Toddlers!
The Best New Years Eve Activities for Toddlers
I thought it would be fun to gather some simple and easy toddler activities for New Years Eve all in one place as I was finding some fun ones! Read on for a collection of some great crafts, activities and projects for celebrating NYE with your own little ones!
DIY Confetti Poppers for Kids
Make a fun and easy DIY confetti popper to ring in the new year! All you need are toilet paper rolls and some construction paper. Plus your child will learn a bit about cause and effect from these easy to create party poppers. (There are tips to keep it mess free too.)
New Year's Sensory Bottle
Celebrate the new year with this fun sensory bottle! This will keep your toddler entertained during the countdown.
Free Printable New Years Eve Scavenger Hunt for Kids
Send kids around the house searching for clues in this fun New Year's Eve scavenger hunt that requires zero prep! Just print out this colorful free printable, grab a few crayons or makers and you're ready for some fun that even the littlest partier can take part in. It's the perfect New Years Eve activity to lead to a bigger activity or fun surprises!
From me, Mimosas & Motherhood =)
Printable New Years Activities for Kids
I love free printables, and this one is full of loads of fun and free activities to help see the New Year in with a bang!
Free Printable New Years Eve Bingo
This free printable new year's eve bingo is fun the whole family! Your children will love playing a few rounds while they wait up for "midnight."
Easy NYE Fireworks Craft
Prepare for New Years Eve celebrations by making this fireworks craft. You can learn how to make two different types of artwork, and this craft is perfect for messy kids because they can get their hands dirty!
Looking for more holiday activities for your toddler? Be sure to also check out 50 Advent Calendar Activities for Toddlers and DIY Christmas Crafts for Toddlers!
New Years Eve Clock Countdown
Countdown clocks are a great way to keep the kids engaged and excited, and they get practice with time too!
You can also create your own countdown clock easily at home by using paper plates!
From Healthy, Happy, Impactful
New Years Eve Countdown Bags for Kids
These New Years Eve Celebration Bags are such a cute and fun idea to add an extra special feel to your night. You can create your bags with anything you like!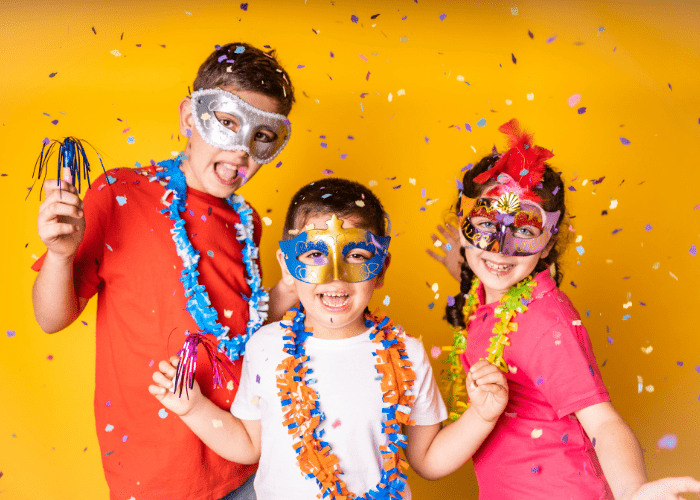 New Year's Living Room Party
Throw your own living room New Year's Eve party! This past year we threw our own new year's eve celebration, counting down until their 7pm bedtime… and they had a total blast.
Grab some glow sticks, party hats, board games, fun fizzy drinks and a few of the fun new year's eve activities from this list and have fun counting down to the new year together. You can also make your own disco ball with glittery paper!
This is also a great opportunity to make some new year's resolutions as a family, or put together a time capsule for kids.
Our family has always loved watching the Times Square ball drop, too. If you have older kids, it's so fun to stay up and celebrate when the clock strikes midnight! Don't forget to throw a dance party with your toddler's favorite songs as you ring in the end of the year and celebrating the upcoming year.
What better way to spend special time together?
New Years Eve Party Supplies for Toddlers
Don't forget the party supplies! It's not New Years Eve without some fun decorations, especially when it comes to celebrating with your kids.
Click here to check out a bunch of great New Years Eve supplies, activities and crafts you can snag on Amazon (which means they're perfect if you waited until the last minute to order)!
Will you try any of these New Years Eve Celebration Ideas for Toddlers?
New Year's Eve can be a fun night for kids AND parents with the ideas on this list! It can become a fun way to make your own family traditions, too. Depending on your child, consider starting the party earlier in the day, especially if you know they struggled after a certain time of night.
Pin this list for later! I hope this list of great ideas sparked some options for your own family. If you loved this collection of activities and new year's eve crafts please share this post. Which one is your favorite? What fun ideas am I missing? Tell me in the comments below!
Wishing you and your family a happy new year!