Giving birth is HARD. It's incredible what the female body is capable of, and to this day I'm still in awe of the fact that I grew a human being inside of my body! But that doesn't change the fact that childbirth is hard. When women tell you it's the hardest thing they've ever done, they're not kidding. Postpartum recovery can also be really hard too.
One thing I was absolutely in the dark about though was just how tough postpartum recovery can be, too. Each of our bodies are so different, as are each of our babies, which means each woman has a unique postpartum experience. 
Researchers now believe the postpartum recovery period can last up to six months! During this time your body will experience a number of changes (including physical, mental, emotional and hormonal ones). I personally really struggled after my first childbirth with my hormones.
With all of the uncertainty, I wanted to focus on one thing I had a little bit more control over: my physical recovery postpartum.
The #1 thing that I'm so glad I had for my postpartum recovery is something I bet you haven't heard of, but it's hands down the one item that made me feel the most like me the quickest: a postpartum corset.
Note: Some links may be affiliate links. That means I may make a commission if you use my links to purchase, at no extra added cost to you! I only recommend products that I personally love and believe in. Full disclaimer here.
First let me say that a postpartum corset is NOT the same as "waist trainers" you might have seen celebrities endorsing. Waist trainers are meant to cinch your waist as tight as can be, which can be dangerous and potentially damage your internal organs. A postpartum girdle shrinks WITH you, and is meant to apply gentle pressure to help compress and shrink your abdomen and uterus as they heal.  
I did a lot of research, and decided on the this postpartum corset available on Amazon. This one is a medical-grade abdominal compression binder and Is FDA Registered, which means it is held to higher standards then some of the other postpartum brands out there.
These are actual photos of me at 41 weeks pregnant, and again at JUST 4 weeks postpartum.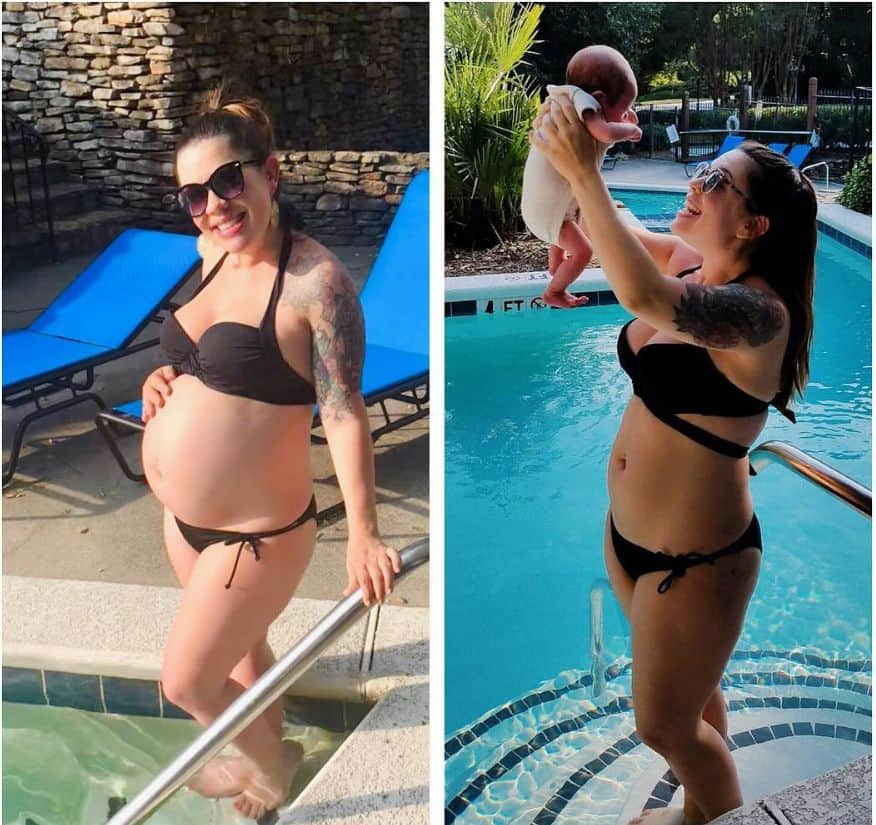 Completely crazy, right?? I attribute SO MUCH of my seeming to "bounce back" from pregnancy to wearing a postpartum corset.
I had a really positive experience using a postpartum corset/girdle: it made me feel like ME again much faster than I think I would have without one. It was comfortable, simple to use and easy to clean.
Related: The 5 Things You Must Have for a Fast Postpartum Recovery
So, Why Should You Consider a Postpartum Girdle or Corset?
1. It gives you immediate core support after birth. Am I the only one who didn't know that you will struggle to sit up on your own immediately following childbirth?? I couldn't even get out of bed! Once I put on my corset, the compression gave me the core support I was so badly missing, and just the ability to get up on my own helped my mental health.
2. It's incredible not only for a vaginal childbirth, but also for c-section recovery. If
you want to protect and support the incision you received as a result of your c-section, a corset built for c-section recovery helps (like the this Dual Closure Corset).
The right postpartum corset can prevent sutures from breaking, the wound from eviscerating, and the c-section incision from becoming irritated or infected due to the change in movement that has suddenly occurred.
3. Postpartum corsets are designed to stimulate the lymphatic system, which removes fluid and toxins from the body. When the lymph nodes are able to do their job, women notice less swelling in their bodies. Compressing the abdomen and uterus with postpartum girdles accelerates healing and the amount of time it takes you to recover!
4. It helps to diminish abdominal muscle separation, or Diastasis Recti. Wearing an after pregnancy girdle gives you more support for lifting and carrying your child, creating more core strength needed to prevent injuries and further separation from happening.
5. A postpartum corset reduces uterus swelling by providing support and compression in the abdomen and lumbar areas of the body, which helps to improve posture and can help alleviate lower back pain.
How Soon Can You Wear a Postpartum Girdle?
For many mamas, you can start wearing one right after birth! Be sure to check with your doctor if you've had a c-section just to be safe.
I personally started wearing mine the day we came home from the birth center (and for my next pregnancy I will be sure to pack it in my bag).
Related: How to Take a Postpartum Sitz Bath
How Long Do You Wear a Postpartum Girdle?
It's recommended that you wear your postpartum corset 24/7 for three- six months postpartum. It all depends on your body! I wore my postpartum corsets pretty much around the clock for the first month (minus when I was showering or they were in the wash).
I noticed that the more consistently I wore it, the more noticeable my results were. I felt better, quicker.
A postpartum corset made a huge difference in my postpartum recovery, and I know it will for you too!