The Joovy Qool stroller is a great option for growing families. With 4 easy configurations out of the box, and more than 50 with the Joovy Qool accessories, this single stroller can convert to handle 3 kids! We own this stroller, and this Joovy Qool review is based on using it for the past 6 months.
As our family grows, we continue to discover great new kids gear and products. I'm excited to share with all of you my review of the Joovy Qool stroller. This is a stroller that we actually own and use, and my review is based off of using the Joovy Qool Stroller for the past 6 months.
Note: Some links may be affiliate links. That means I may make a commission if you use my links to purchase, at no extra added cost to you! I only recommend products that I personally love and believe in. Full disclaimer here.
Joovy Stroller Review
This Joovy stroller review is based off using this stroller for the past 6 months. The Joovy Qool is a full-size stroller that quickly and easily converts to a double stroller with the purchase of an additional seat and adapter. It can also accommodate a third child with the Bench Seat accessory! This makes the Joovy Qool the only stroller you have to purchase if you know you will have multiple little ones.

The Joovy Qool was actually the first double stroller we got after we became a family with 2 under 2. Our youngest was born when our oldest was 16 months, and I really wanted a double stroller that could continue to grow with us.
If you are looking for a full-size convertible stroller for a great deal, the Joovy Qool is an option you should be sure to check out. With its dark frame, leatherette handle bar, and neutral fabrics, the Joovy Qool has that modern, luxury look, without a scary price tag.
Joovy Qool Review
Joovy Qool Weight and Size
The Joovy Qool weighs about 30 pounds and can hold up to 135 pounds total weight. While 30 pounds might be heavy, it's very much in line with other strollers that can accommodate up to 3 children.
Plus, even with the weight and ability to serve as a triple stroller, the Joovy Qool still meets Disney requirements!
Joovy Qool Car Seat Compatibility
The Joovy Qool can accept a single car seat or two car seats at the same time. Both car seats can also be parent-facing, which is amazing and makes the Joovy Qool perfect for twins. You need to purchase the Front Adapters and car seat adapters to accommodate more than one car seat.
The Joovy Qool offers car seat adapters for Maxi Cosi /Cybex/Nuna or for Chicco/Graco. It's compatible with the majority of major car seats. You can check out the Joovy website for their car seat compatibility guide.
The Joovy Qool can also accommodate two infant bassinets, which can hold a baby up to 20 pounds, by using the Front Adapters (sold separately).
Related Kids Gear Posts:
The Best Backyard Playsets for Toddlers
Joovy Qool Seats
One of the things I really like about the Joovy Qool is the high weight limit: both the main seat and the second seat can hold a child up to 55 pounds!
The seats are equipped with a 5-point harness, and can easily recline to a nearly flat position. While the seats are able to recline a lot, Joovy does not recommend that babies ride in the regular seat until they are about 6 months old or have solid head and neck control.
The Joovy Qool seats are also incredible easy to install, remove and change configuration. Just press the two buttons on either side of the seat and then lift the seat out to remove it. When you want to put it back, it simply clicks in (you don't need to press any buttons to do so).
Joovy Qool Configurations
One of my favorite parts of writing this Joovy stroller review was the configurations! The Joovy Qool has more than 50 configurations with the use of accessories sold separately, and 4 different Joovy Qool seating configurations straight out of the box.
Like the main seat, the second seat has 4 recline positions and can be placed forward- or rear- facing in the high or middle positions.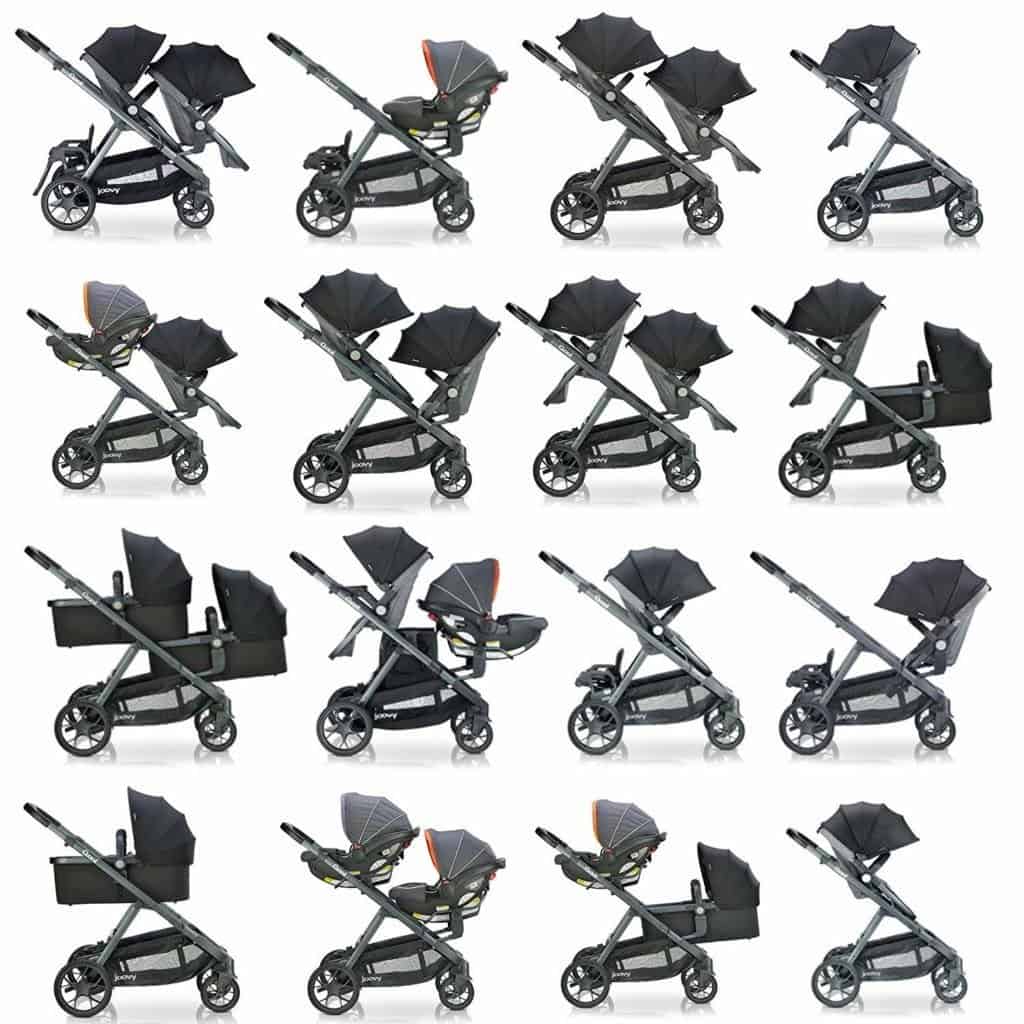 If you have a third, older child you can also add on the Bench Seat. Like the regular stroller seats, the Joovy Qool Bench Seat is a toddler seat that can also accommodate a child up to 55 pounds! It has a 3-pt-harness as well as a little kick bar for kiddos to place their feet on, and it's simple to click right into position.
Jooyy Qool Wheels
The wheels on the Joovy Qool are durable and made of rubber, meaning they won't go flat. They can handle all kinds of terrain, from hilly to grass to gravel, though they will struggle in sand (like most strollers). The front wheels offer suspension for a nice, smooth ride and can swivel or be stationary.
Joovy Qool Fold
The fold is the one area in my opinion that can be frustrating. Before you fold the Qool, the main seat much be in the middle position. This means that if you're using the second seat, you need to detach it first before folding.
However, once you go to fold, all you have to do is press the trigger buttons on either side of the handlebar and the stroller easily folds in half backwards.
Important to note: the stroller doesn't stand up on its own once folded. The Qool also remains quite large when folded.
Extras
The Joovy Qool seats come with an extra large UPF 50 canopy. It has a zip-out panel that provides full sun protection, as well as a mesh peek-a-boo window for increased airflow and to check on your little one.
The Qool also has an adjustable leatherette telescopic handlebar that is suitable for parents of all heights. This is easy to adjust and the leatherette means it won't wear down quickly.
The Joovy Qool has an extra large storage basket underneath that can hold up to 25 pounds. It has easy access from all sides, and is big enough to hold one giant diaper bag (or even two)!
The Joovy Qool brake is also simple to use. Just step on the brake pedal, and it locks the wheels; push it up with your foot, and it unlocks the wheels. Easy.
Additionally, the Joovy Qool has a ton of accessories available! In addition to the second seat, the bassinet and the bench seat (which turn the stroller into a double or a triple with a simple rear seat) you can also purchase front adapters, car seat adapters, parent organizer, rain cover, child trays and more!
If you know you are going to need that double stroller option, check out the Qool Too Double Stroller Travel System Bundle, which also gives you the second seat and front adapters as well!
Is the Joovy Qool Worth It?
This Joovy Qool Review was written by a real mom who has used this stroller for the past 6 months (aka, me!). Here are my honest thoughts.
Pros: For the price, the Joovy Qool is a great option if you want a stroller that can grow with your family. You get the same perks of some of the well-known luxury brands for a steal! The Joovy Qool is also easily customizable, with more than 50 ways you can use the stroller. We also love the UPF 50+ sun shades and that the wheels are durable and made of rubber (meaning they won't go flat). Joovy strollers are tough and hold up to a lot of abuse from families.
Cons: It's pretty heavy and bulky, and the fold isn't the best.
Bottom Line: Overall, our family loves the Joovy Qool Convertible Stroller and are glad that we have a stroller that can accommodate our family's continued growth. It's a great option when you look at single strollers that easily convert. For the price this customizable stroller can't be beat compared to more expensive options, and the fact that we can create more than 50 different configurations means that the Joovy Qool is truly a stroller our family can continue to use for years to come.
Related: The 10 Best Montessori Toys on Amazon
Related: Postpartum Healing After Vaginal Birth
Joovy Qool Review, Joovy Stroller Reviews, Joovy Stroller Review, Joovy Qool Stroller Review