How to Make a Paper Chain Advent Calendar
The classic paper chain Advent calendar is such a fun way to count down until Christmas! Learn how to make an easy construction paper chain Advent calendar with this simple tutorial.
Advent calendars have a special way of making the days leading up to Christmas Eve feel even more special. When I was a little girl, I used to treasure the anticipation leading up to that final Advent calendar prize or activity. Now as a mom of two toddlers, I treasure those moments for my little guys!
If you have been around here for a bit, you know that I LOVE a good Advent Calendar. Seriously, check out this list of Advent calendar activities, or this one of DIY Advent Calendars you can make with your kids, or heck even this one of 24 Christmas books to read while you count down!
This past year I wanted to make a very simple Christmas countdown, and chose to go with the classic paper chain Advent calendar. This is far from an original idea, and one that almost all of us can probably remember creating in our childhood.
If you're wondering how to make a paper chain Advent calendar, it's incredibly simple! I love that this is an easy DIY advent calendar that you can make quickly, and it's also one that you can start AFTER December 1st (in case you forgot to make an advent calendar haha).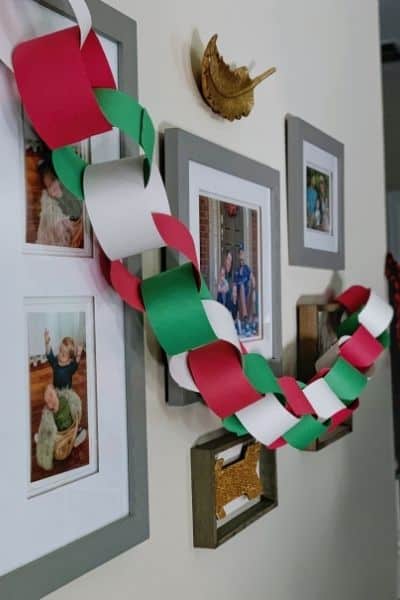 Paper chains are also a fun and safe activity that even the little kids can get in on. Each morning as you countdown to Christmas, you tear one paper ring off the chain. My boys loved that they got to practice counting, too!
We hung our paper chain Advent calendar in an easy to see spot: right in our living room. It's a great visual for young kids to see how many days are left until Christmas Day. I decided to create one when it hit me just how tough it is for little kids to mentally understand the days that are left until Santa comes!
Paper chains also make a cheap and easy decoration for your Christmas tree, too. While you're making one, be sure to try one of these Easy Christmas Simmer Pot Recipes to make your home smell festive, too!
Note: Some links may be affiliate links. That means I may make a commission if you use my links to purchase, at no extra added cost to you! I only recommend products that I personally love and believe in. Full disclaimer here.
Easy Construction Paper Advent Calendar
With this paper chain advent calendar, your kids can actually see and count the number of days left. And let me tell you: the just overwhelming pure joy and bliss excitement that will pour out of them as that chain gets shorter and shorter? It's priceless as a parent.
This is by far one of the easiest Advent calendars you can create, so if you don't consider yourself a crafter, this is perfect. You can create a very basic paper chain with just loops, and have your children tear off a ring each day as a simple countdown.
You can also choose to put an activity on the inside of the strips of paper that make up each loop (check out this list for inspiration) as an added surprise each day, or add a special Bible verse!
If your children are old enough, they can help with this project too. Mine were too young last Christmas, so I whipped this up while they were sleeping one night in less than 15 minutes!
Paper Chain Advent calendars are such a fun (and simple!) way to countdown to Christmas.
How to Make a Paper Chain Advent Calendar
Supplies Needed to Make a Paper Chain Advent Calendar:
Construction Paper (this is a great set that includes Christmas colors!)
Pencil
Ruler
Glue Stick or Stapler
Optional: markers if you want to number each ring, ribbon or other embellishments
Steps to Make a Paper Chain Advent Calendar:
Lay out your construction paper. Depending on the size, you will most likely get 8 strips of construction paper per sheet. For example, if your paper is 12 inches long, you'll want to cut strips that are 1.5" wide each (12 divided by 8).
I like having really even sections, so I recommend placing the ruler parallel to the long side of your paper and measuring out each individual section first. Make a little mark at 1.5" at the bottom of the page as you measure.
Place the ruler parallel to the short side of your paper and trace lightly down the right side of the ruler at each of those indicated spots
Cut out all the strips using your scissors or a paper cutter. I personally went for 24 strips total, 1 for each day from December 1st through December 24th.
If you're planning on adding strips with activities or Bible verses onto each ring, now is the time to glue those on!
Use a glue stick or stapler to turn the paper strips into rings, attaching them into a chain. I chose to alternate each strip of paper with green paper, red paper and white paper, but you can put your advent chain together however you like.
Hang your paper chain Advent calendar on the wall in an easy place for your kids to see each day (but not easily grab if they are still tiny). Each morning cut or tear off a ring together and countdown the days left until Christmas Eve!
Related Christmas Posts:
Giant Gingerbread Man Christmas Craft
DIY Christmas Crafts for Toddlers
The Best Christmas Books for Babies and Toddlers
Free Printable Christmas Activity Sheets
Making a Paper Chain Countdown is Easy
This Paper Chain Advent Calendar is such a fun and easy way to make the days leading up to Christmas feel even more special for your family. Whether you use it to tell the Christmas story, or use the paper links for fun crafts, this advent calendar paper chain is a fun and easy activity for your little ones.
But you don't have to keep this easy craft as only something for the holiday! You can use these steps to create a paper chain countdown for a special event any time of the year.
Make a family countdown for a special occasion, or even use it to count the days until dad comes home from his big trip.
If you try it be sure to tag me on Instagram so I can see at @Simply.Siobhan and #MimosasAndMotherhood!