30 Creative Pizza Ideas for Your Next Pizza Night
Mix up your next family pizza night with one of the recipes on this list of creative pizza ideas! These kid-friendly homemade pizza recipes are sure to delight your family.
If you're anything like my family, pizza night is a big deal! We set aside every other Friday night or Sunday night as family pizza night. My kids love helping to assemble their own pies, and my husband and I like to try creative and different ideas for ours.
You just gotta face it: pizza is delicious. But having the same type of pizza every pizza night can get old, fast. That's why I was excited to find some new and creative pizza recipes for our own family.
There's just something special about a homemade pizza versus a delivery one. While delivery might be easier, making a homemade pizza together as a family is always more fun! Whether we make one 100% from scratch, or just add to a store bought pizza, family pizza night has become one of our favorite traditions.
What Do You Need for a Pizza Night?
Part of the fun of family pizza night is creating your own pizza! For a great pizza night, you need a mix of ingredients, like different sauces, cheeses and of course, toppings!
You can buy a pre-made dough at the grocery store, make your own or even add toppings and extras to a cheap frozen pizza (my family does this all the time). I chop up all of our toppings before we get started and put them individual bowls to make it easy for little hands to help.
Here are a few great (and easy) topping ideas if you need a start place:
Traditional pizza: pizza sauce, mozzarella cheese, pepperoni, sausage
Hawaiian pizza: pizza sauce, mozzarella cheese, pineapple and ham
Buffalo chicken pizza: pizza sauce, ranch dressing, chicken tossed in buffalo wing sauce and mozzarella cheese
BBQ pizza: pizza sauce, mozarella cheese, chicken or pork tossed in buffalo wing sauce
All the meats pizza: pizza sauce, mozzarella cheese, pepperoni, sausage, ham, chicken and bacon
Veggie lovers pizza: pizza sauce, mozzarella cheese, mushrooms, green peppers, red onions
The options are really endless. The most important ingredient for family pizza night? FUN!
30 Creative Pizza Ideas for Dinner- Kid Friendly Recipes
This list of 30 creative pizza recipes is full of fun and unique ideas for your next family pizza night. From traditional pizza to pizza rolls, dessert pizza and taco pizza, there's something for everyone on this list.
All of these recipes were also chosen because they are kid-friendly (and we all know how hard that can be sometimes)!
Homemade Bacon Cheeseburger Pizza
This Homemade Bacon Cheeseburger Pizza combines two foods most people LOVE – pizza and cheeseburgers.
Seasoned ground beef, delicious sauce and tangy pickles on a thick or thin crust. Make it for dinner tonight, for parties or potlucks, or to stock in your freezer. It's a crowd-pleaser! Everyone loves it!
Bacon and Eggs Breakfast Pizza Recipe
Bacon and Eggs Breakfast Pizza gives an entirely new meaning to having pizza for breakfast. The creamy scrambled eggs and homemade gravy make the perfect pizza combination.
Easy Homemade Taco Pizza Recipe
Homemade Taco Pizza Recipe, its pizza but without the sauce and with taco toppings and its delicious! Give it a try and you will be surprised!
Air Fryer Bagel Bites
The kids are going to love these Homemade 4-ingredient Air Fryer Bagel Bites! Since they take only 5 minutes to cook, they are the perfect solution for an easy lunch!
Easy Crescent Roll Pizza Pockets
Making these pizza rolls are so quick and easy also. Kids love them and they're super-efficient and affordable. I don't mind snacking on them from time to time as well.
Pizza Cupcakes Mini Deep Dish Pizzas
Pizza cupcakes are a fun and delicious new way to have pizza night. This simple recipe is one the entire family will love.
Whole Wheat Hidden Veggie Mini Pizzas
Family pizza night will be so fun and delicious with these simple whole wheat and veggie packed pizzas–but the kids won't even know! Everyone can have fun making this simple, yeast free pizza dough and adding the toppings they love.
Super Easy Pizza Flatbread
Pizza flatbread is a perfect easy lunch or dinner, especially when you have kids in the kitchen. You only need a few ingredients and 20 minutes.
Homemade Gluten-Free Vegan Copycat Pizza Bagel Bites
A healthier, homemade version for your favorite childhood snack! Gluten-Free Vegan Copycat Pizza Bagel Bites! A mini, allergy-free, recipe that's perfect for the kids, quick & easy to make, and great as a nostalgic adult appetizer and finger food!
Easy Pepperoni Pizza Twists
Make from scratch pizza crust stuffed with pizza sauce, cheese and pepperoni. Yummy pizza twist recipe that will have everyone coming back for more.
Customizable Naan Pizzas with Basil
These customizable naan pizzas with fresh basil are easy to make and are a quick lunch, snack, or easy dinner. They are family-friendly and great for adults and kids.
Pepperoni Mac & Cheese Skillet
While not *technically* pizza, it absolutely fits the bill for creative pizza ideas! Pepperoni Mac and Cheese Skillet – Two classic childhood favorites come together in this cheesy, gooey, pepperoni-topped and noodle-filled baked skillet. Ready in just 30 minutes, this easy Pepperoni Mac and Cheese Skillet Recipe is guaranteed to have your kids begging for more!
Zucchini Pizza Bites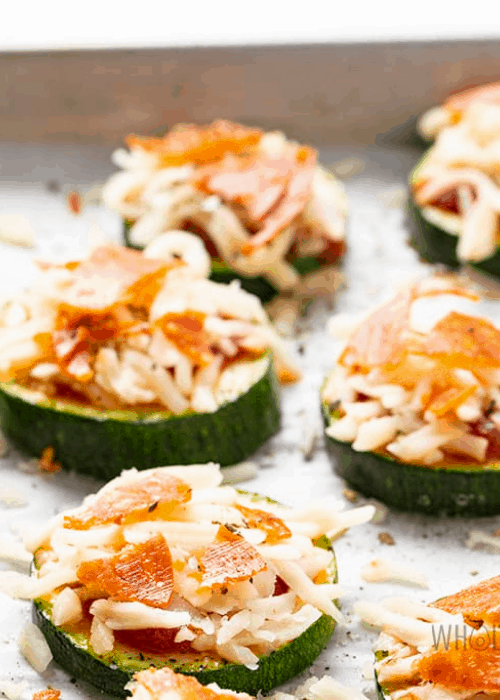 This fun, easy mini zucchini pizza bites recipe needs just 6 ingredients + 20 minutes! Enjoy healthy pizza flavors with these naturally keto pizza bites.
Gluten-Free Dairy-Free Apple Dessert Pizza
Dessert pizza? Yes please! Kids and adult alike enjoy this sweet version of dessert pizza that is kind of reminiscent of apple pie.
Easy Air Fryer Pizza Rolls
These easy air fryer pizza rolls can be stuffed with your favorite pizza toppings and dipped into marinara sauce for a delicious appetizer or snack. Here's how to make them for your family!
English Muffin Pizzas
English muffin pizzas are a fast and simple recipe that takes less than 30 minutes to make. Everyone, especially kids, will have fun making and eating these creative mini pizzas.
Healthy Pizza Dippers
These Healthy Pizza Dippers are quick and easy to make with 2 ingredient dough (Greek yogurt and flour). They can be made ahead, frozen, heated or eaten cold, making them the perfect lunch box meal because they are ready to eat. You can serve them with different dips and as an after school or game day snack.
Easy Mini Deep Dish Pizzas
Looking for an easy dinner for a busy weeknight? Try these mini deep dish pizzas that are made using Bisquick. Kids and adults will both love them. Such a fun and creative pizza idea.
From Retro Housewife Goes Green
Air Fryer Pizza Rolls Recipe
These air-fryer pizza rolls are the perfect bites for kids to enjoy. They're pillowy delights baked to a cheesy mozzarella center and a crispy, crunch exterior; yum!
Easy Pizza Pull-Apart Pizza Bread Recipe
This is an easy recipe for little hands, as the ingredients are simple and quick to put together! Lay out the ingredients with a variety of toppings and let your little one make their own custom pizza that pulls apart into little bites for little mouths!
Cheeseburger With Everything Pizza Recipe
Cheeseburger with everything. Can you pizza it? This cheeseburger pizza recipe is perfect with all your favorite toppings. This recipe is made with ground beef, tomatoes, onions and super melty and delicious Havarti cheese.
15 Minute Ham and Mushroom Naan Pizza
This quick naan pizza will soon become the first thing you turn to on Friday night!! Just grab naan, smother it with tomato sauce flavoured with basil, oregano and olive oil and top with ham, mushrooms and cheese or anything your like.
Taco Pizza Roll Ups
For a fun twist on taco night, these Taco Pizza Rolls with ground beef, salsa, and cheese will be a hit!
Kitty Pizza with Breadstick Whiskers
A super adorable kitty pizza with breadstick whiskers that are perfect for plunging into dips. Easy to make with a handy printable template!
Air Fryer Pizza Rolls
A family favorite, these wholesome kid-friendly air fryer pizza rolls are sure to be a hit in your household! Great as a snack or a meal, they're so easy to make that your little ones can help make them as well.
Frozen Dessert Pizza Recipe
Frozen Dessert Pizza – This dessert is easy to put together, and is always a crowd pleaser. I like it as an alternative to birthday cake!
Vegan Pizza Recipe
Try out this restaurant-style Vegan Pizza Recipe in the comfort of your own home. It's easy to make and delivers the most delicious crust. It's crispy on the outside and fluffy on the inside.
Kid-Friendly Pizza Recipes Make Family Pizza Night Fun!
I hope you loved this list of 30 creative pizza ideas for family pizza night. Which one are you most excited to try? Did I leave off one of your favorites?
If you try any of these recipes be sure to tag me on social media so I can see @simply.siobhan or using the hashtag #mimosasandmotherhood =)
More Kid-Friendly Recipes:
Easy Peasy Bacon Tater Tot Casserole
Bacon Cheeseburger Pull-Apart Sliders