Lovevery Play Gym Review- Is It Worth It?
Are you debating putting the Lovevery play gym on your baby registry, but aren't sure if it's worth the hype? Read on for a review by a mom of 3.
As a mom of three under five who just had our third late last year, there were very few baby items that we had our eye on that we hadn't already tried. The Lovevery Play Gym was always on my radar, but it was pricey and we were gifted a different play gym with our first baby so there was no reason to get one.
Enter our third baby, and I've somehow misplaced half the things that I was holding onto, including that original play gym. I had planned on using a hand me down from a friend, until we were sent a Lovevery Looker Play Kit as a gift.
After receiving it and seeing quickly how thoughtfully designed and incredible the kit was, and the amount of thought that was put into it from a developmental standpoint, I realized that our missing play mat had given me the perfect excuse to finally get my hands on the Lovevery Play Gym and see if it was worth it.
We are currently using this play gym for my 4 month old son. Read on for my honest review of the Lovevery Play Gym. This is NOT a sponsored post. This was written based on our family's personal experience.
Note: Some links may be affiliate links. That means I may make a commission if you use my links to purchase, at no extra added cost to you! I only recommend products that I personally love and believe in. Full disclaimer here.
What Is the Lovevery Play Gym?
Designed to grow with your child from newborn to toddler, the award-winning Lovevery Play Gym is a play mat that provides stage-based activities that engage your baby throughout their first year, from 0-12 months. It has 5 Developmental Zones (or play areas) with activities that foster exploration and growth through fun textures, contrasting bright colors and sounds. You can also turn it into a cozy fort for toddlers using the new Play Space Cover that comes with it.
It's a beautiful, colorful and clean design. The Play Gym is OEKO-TEX® STANDARD 100 certified and tested to be baby safe.
The Lovevery Play Gym is available here directly from Lovevery, and is also available at Amazon and Target.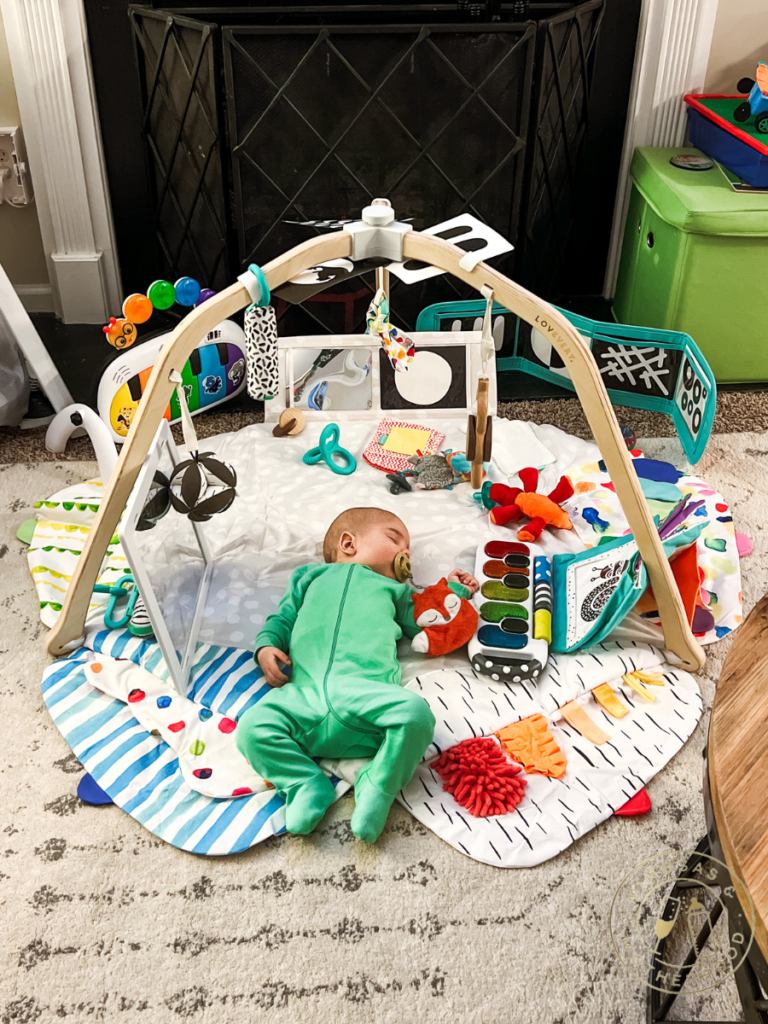 What comes with the Lovevery Play Gym?
The Lovevery Play Gym arrives with the following items:
Play Mat: The "base" of the Play Gym, it includes five development zones: Learning to focus, Exploring colors, Making sounds, How things feel, Hiding and finding.
Wooden Legs/Stand
Organic cotton high contrast Montessori ball
Wooden batting ring, ergonomically designed for batting and grasping.
Organic cotton teether
Silicone teething ring manufactured without PVC.
Black and White Card Set, as for the first 12 weeks, your baby is more stimulated by black and white designs
Mirror Card Set so baby can look at themselves
Common Objects Card Set to reinforce your baby's first words with pictures of objects your baby sees every day
Card set clips that attach to the Play Gym to hold and rotate Card Sets.
Play Space Cover to transform the PlayGym for imaginative play as your baby becomes a toddler.
It also comes with "The Play Guide Booklet."Written by child development experts, the booklet includes "a full year of ideas for how to play, backed by all the research you don't have time to read."
Honest Lovevery Play Gym Review
We've been using the Lovevery gym for about a month with my now 4 month old baby. We personally have it set up in the living room of our home, as that's the central area we're in when we are at home.
When I first opened the box I was really impressed with how easy it is to set up. The wooden legs easily connect to each other the play gym and are much more lightweight then they look. Mine arrived with the hanging toys attached.
The play mat has five different "developmental zones" that fold out: Learning to focus, Exploring colors, Making sounds, How things feel, Hiding and finding. Each play area has a different design, which makes it easy to rotate your baby through what feels like 5 very different activities easily.
These zones are designed to encourage your baby to touch, grasp and reach, as well as experience new textures and practice fine motor skills.
Each of these zones was designed with the help of child development experts. My favorite part about this is how easy it makes tummy time, as each of these different zones can essentially become tummy time stations.
The different card sets are specially designed to support your infant's visual development. I was excited to see that the play gym comes with card set clips that allow you to clip them to the underside of the top of the wooden legs. This means that you can easily swap out cards that your little one can gaze at while lying on their back!
My little guy loved the high contrast black and white cards as a newborn, and we have been slowly adding in the other card sets now that he's getting older.
This is a great play gym for small spaces too. It's easy to move about, and you can fold in the zones your baby isn't using to make the footprint smaller too.
I also really like that you can incorporate the Lovevery Play Kits into the Play Gym. My son is three months old, and we have been using the Looker Play Kit and the The Charmer Play Kit during our play time on the mat. The Lovevery subscription for different stages is fantastic if you're looking for additional ways to focus on developmental milestones with your little one.
You can also get some additional accessories on the Lovevery website.
Pros of the Lovevery Play Gym
One of the biggest pros for the Lovevery Play Gym is that they only use baby-safe materials. The wooden legs are made from ethically and sustainably sourced wood that is certified by the Forest Stewardship Council (FSC). Nothing that comes with the play gym contains flame retardants or PVC, and pieces that can go into your baby's mouth are made with 100% organic cotton and silicone.
The Lovevery gym is also designed to not overstimulate your baby. You can fold in the different areas and easily remove and swap out items for education play.
Unlike other activity mats, the play gym is also designed to be used for an extended period, not just baby's first year. Lovevery designed the gym to be fun for your baby as they grow into a young toddler with the Play Space Cover. My 3 and 4 year old kids have been loving that they can turn baby's toy into a fun tent and play fort for them while he's napping!
As this is our third baby, we've either owned or had the opportunity to try during play dates quite a few different play mats. I can say that this one is by far the most thoughtfully constructed for hitting developmental milestones.
Frequently Asked Questions about the Lovevery Play Gym
How long do babies use the Lovevery Play Gym?
The Lovevery Play Gym is designed to be used by babies from 0 – 12 months of age. With the addition of the Play Space Cover, many older babies and toddlers continue to love to play with it through 18 months and beyond.
My three and four year old's think their baby brother's "tent" is amazing and constantly ask me to set it up for THEM when the baby is asleep.
Can you wash the Lovevery play mat?
Yes, you can! Both the activity mat and the Montessori Ball are machine washable with cold water on the gentle cycle or delicate cycle. Before you put it in the washing machine, first be sure to close the attachment loops on all three corners of the mat (where the wooden stand was attached).
The activity mat is not designed to go into the dryer, so be sure to only air dry it. Be sure to press the squeakers in the Making Sounds are multiple times to make sure any excess water is removed.
The plastic and wooden components of the are not designed to be washed. They can be wiped down with a damp cloth as needed.
You might also enjoy these articles:
How to Get a Baby to Sleep in a Bassinet
Is Lovevery activity gym worth it?
There are very few baby items that I regret not getting sooner. The Lovevery Play Gym is one of them.
The Play Gym has it ALL to keep your baby stimulated and entertained. Unlike other play mats out there, you can easily change up the activities and areas that baby has access to without having to purchase more baby toys and accessories.
Each piece of the Lovevery mat is designed with baby's development in mind. It's beautiful, easy to set up, well-made, easy to clean and will continue to grow with your baby as they become a toddler with the detachable Play Space Cover. New parents (especially a first-time parent) will love that it also comes with a detailed guide of ways to play with your baby for each developmental stage, too!
If you're looking for a beautiful play mat for your baby that is designed for extended use, I definitely recommend considering it. While it does have a higher price tag, if you look at the number of options, accessories and how long your kids will be using it, it's actually pretty comparable to the competition. It makes an excellent gift, too. Lovevery products are well-made and built to last, making them a great investment.
All of those positive Lovevery play gym reviews exist for a reason! As a mom of three, I can safely say that this is best stage-based play gym we've ever gotten to use.
All in all, the Lovevery Play Gym is totally worth the hype! You can buy the Lovevery Play Gym here on their website.