25 Breakfast Ideas During Pregnancy
Eating the right kinds of food when you're expecting is so important to keeping not only you healthy, but baby too. Here are some delicious, nutritious and most of all easy breakfast ideas for pregnancy.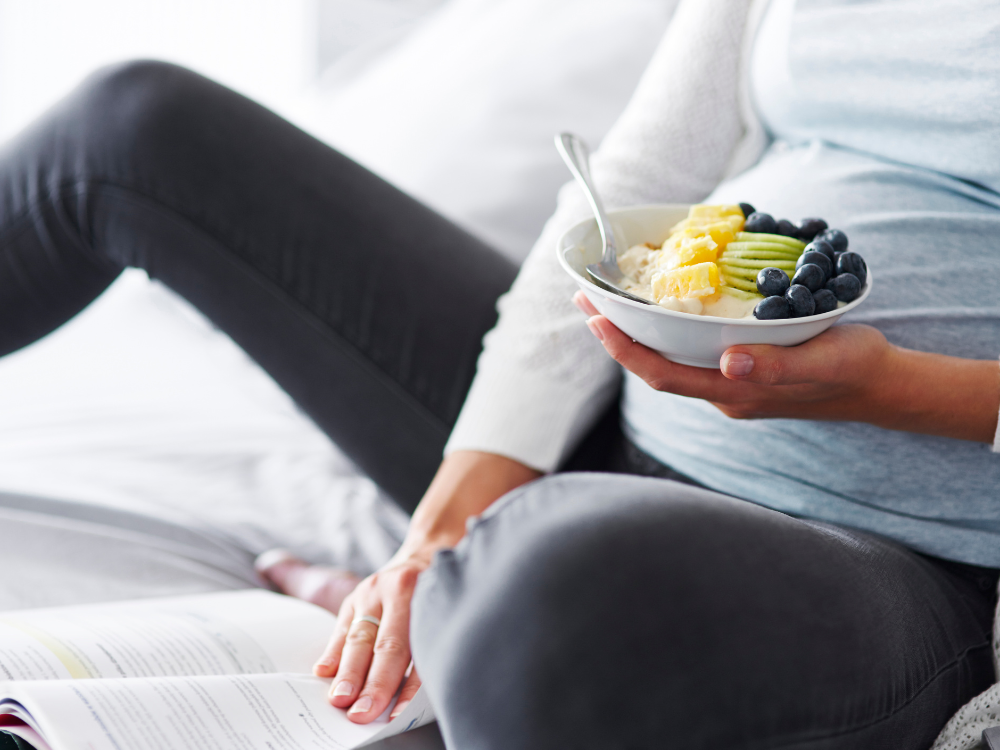 The experts tell us that breakfast is the most important meal of the day, but when you're pregnant it can be a struggle for many moms to be to eat. Whether you're on the go juggling older kids, someone who has never been a big fan of breakfast, or struggling with morning sickness, it can be hard to prioritize.
You've probably heard that pregnant women need to eat more, and according to researchers approximately 300 extra calories are needed each day to maintain an extra pregnancy. In fact, a healthy diet is one of the best things you can do during pregnancy!
If you're struggling, you're not alone. As a mom of 3, I struggled with eating well in every single pregnancy. In this article we will be covering what to eat for a healthy pregnancy, as well as a sharing a bunch of yummy recipes you can make yourself to help.
Let's dive in!
Note: Some links may be affiliate links. That means I may make a commission if you use my links to purchase, at no extra added cost to you! I only recommend products that I personally love and believe in. Additionally, I am not a medical professional and this post is not meant to be medical advice. This article is for informational purposes. Full disclaimer here.
What to Eat for a Healthy Pregnancy
The easiest place to start is to focus on the nutritional needs of a woman during pregnancy. This is the only time in your life where what you eat directly impacts the health of another person, so it's important to keep that in mind.
The following foods are recommended as not only great for the health of pregnant people, but also to aid in fetal development. Eating fruits and veggies, whole grains, protein and small amounts of healthy fats will also give you steady energy throughout the day.
Fruits: These can be fresh, frozen, canned or dried. Things like bananas, apricots, mangoes, strawberries, cantaloupe, honeydew, prunes, oranges, and red or pink grapefruit are all great choices.
Vegetables: These can be raw, cooked, frozen, canned or dried, and can even include 100% vegetable juice. Sweet potatoes, carrots, leafy greens like spinach and kale, tomatoes and red and green peppers.
Grains: Whole grains through bread as well as whole grain pasta, ready to eat cereal, oatmeal
Protein: beef, pork, fish, poultry and soy products including tempeh and tofu, as well as eggs, nuts and seeds, beans and peas are great sources of protein.
Fish is also a good source of omega-3 fatty acids. It's important to avoid certain fish with the highest mercury concentrations, like marlin, orange roughy, bigeye tuna, king mackerel and tilefish.
Dairy: Including milk, cheese, yogurt and ice cream (within reason!). While pregnant, be sure you choose pasteurized dairy products, which are safer to eat.
Some foods from these groups are also good sources for nutrients like folic acid, potassium, calcium, iron and Vitamin D, which your growing baby needs.
To ensure you're getting the right nutrition for both of you be sure to also add in a prenatal vitamin! It's important to be sure that the prenatal vitamins you choose contain DHA and folic acid.
What food should I avoid during pregnancy?
While there are lots of delicious food choices that are great for both you and your baby, there are also a few foods that health professionals caution pregnant women to avoid.
Seafood high in mercury (see the list above). Too much mercury could harm your baby's developing nervous system, as well as raw, undercooked or contaminated seafood.
Undercooked meat, poultry and eggs. This is especially important as during pregnancy you're at increased risk of bacterial food poisoning
Unpasteurized foods, including soft cheeses, such as brie, feta and blue cheese, unless they are clearly labeled as being pasteurized or made with pasteurized milk. Also, avoid drinking unpasteurized juice.
2o Easy Pregnancy Breakfast Ideas
Need some inspiration for what to eat for breakfast while pregnant? Here are some delicious and healthy breakfast ideas filled with fruits, veggies, protein and fiber to help you feel great as you navigate your day!
Wholegrain bread or english muffins with peanut butter, almond butter or avocado
Low sugar/ high fiber breakfast cereal with a cup of milk (1% milk, skim milk or plant-based milk like almond milk)
Porridge oats, oatmeal, or overnight oats with chia seeds and fruit
Yogurt (greek yogurt or low-fat yogurt are both good choices)- you can also make your own yogurt parfait with yogurt, granola, fresh fruit and honey!
Cheese is a good source of calcium, and can be incorporated into many breakfast ideas during pregnancy. Try a little cream cheese on your favorite bagel.
Eggs- scrambled eggs, fried eggs or hardboiled eggs all are packed with nutrients. Try a fried egg with wholegrain toast, or make your own breakfast bowl with scrambled eggs, sausage, diced veggies and cheddar cheese.
Fresh fruit like strawberries, blueberries, pineapple chunks and bananas are great as a smoothie! Add peanut butter powder or protein powder to make it extra protein rich and filling. Fresh oranges will give you plenty of vitamin C.
Fresh veggies like tomato, mushroom or onions are great on a breakfast sandwich and can become part of nutritious breakfast Try to also add leafy greens like a handful of spinach and kale.
Below are 25 easy pregnancy breakfast recipes, too!
Keep in mind that a breakfast recipe that doesn't sound good in your first trimester might sound great in your second trimester or third trimester, so be sure to pin this post so you can find it easily again!
Air Fryer Egg Frittata
This breakfast frittata is packed with protein and is also low carb. Plus, it's made with inexpensive ingredients and a great way to use up leftovers too.
Get the Air Fryer Egg Frittata recipe here
Instant Pot Egg Bites
Instant Pot egg bites are a quick and easy breakfast to make during the week or in advance for meal prep. Simple and easy to customize, they're also freezer-friendly and a perfect quick breakfast for busy mornings.
Get the Instant Pot Egg Bites recipe here
Peanut Butter Baked Baked Protein Oats (Dairy Free)
Enjoy the classic combo of peanut butter and chocolate with these individual portions of protein baked oats! With 22 grams of protein, this make-ahead breakfast is a great way to fuel up in the morning while enjoying something sweet.
Get the Peanut Butter Baked Protein Oats recipe here
Berry and Ginger Pregnancy Anti-Nausea Smoothie
With soothing ginger, fiber rich oats and energy boosting bananas, this smoothie is calming on the stomach and healthy at the same time.
Get the Berry and Ginger Pregnancy Anti-Nausea Smoothie recipe here
Hot Spiced Vanilla Custard Milk
This hot drink combines nutrient-dense whole milk with eggs and then flavors it however you like — vanilla, chocolate, cinnamon — it's up to you.
Get the Hot Spiced Vanilla Custard Milk recipe here
Breakfast Burrito Bowl
This breakfast burrito bowl is a fun way to switch up the standard fried egg routine, and it is packed with all the flavors of a breakfast burrito.
Get the Breakfast Burrito Bowl recipe here
Blueberry Protein Muffins
Made with Greek yogurt and vanilla protein powder, these Blueberry Protein muffins are ready in less than 30 minutes and make a great healthy pregnancy breakfast, especially to grab on busy days.
Get the Blueberry Protein Muffins recipe here
Peanut Butter and Banana Oat Bars
These simple soft baked peanut butter and banana oat bars are a great breakfast but also double as an easy snack as they make oatmeal portable!
Get the Peanut Butter and Banana Oat Bars recipe here
Feta and Spinach Egg Muffins
These simple egg muffins are packed with protein, and can easily be customized with whatever you happen to have sitting in your fridge.
Get the Feta and Spinach Egg Muffins recipe here
Banana Chia Pudding
This easy banana chia pudding comes together in a mason jar with just 4 ingredients! All you have to do is shake it up & let it sit in the fridge for a few hours or overnight.
Get the Banana Chia Pudding recipe here
High Protein Overnight Oats
Many pregnant women struggle to eat enough protein. These protein-packed overnight oats are made with cottage cheese, peanut butter, fresh fruit and other ingredients, and have a basis of 30+ grams of protein, with the option for more.
Get the High Protein Overnight Oats recipe here
Acai Bowls
Acai Bowls are a powerhouse of fiber, antioxidants, essential nutrients and healthy fats, and surprisingly easy to make yourself at home.
Learn how to make your own Acai Bowls here
Vegan Protein Balls with Hazelnuts and Dates
Vegan and gluten-free, these protein balls are the perfect blend of rich and sweet, with a soft crunchy bite made from wholesome ingredients. They're a great option too if you're trying to eat more dates in your third trimester!
Get the Vegan Protein Balls with Hazelnuts and Dates recipe here
Keto Low Carb Egg in a Bagel
You can either follow the directions to make your own low-card keto bagel from scratch, or cheat and buy store bought ones for this simple recipe.
Get the Keto Low Carb Egg in a Bagel recipe here
Homemade Granola
This recipe combines hearty whole grain oats, crunchy almonds, pecans, and dried cranberries into a slightly sweetened and cinnamon-spiced easy to take with your breakfast.
Get the Homemade Granola recipe here
Banana Blueberry Oatmeal Muffins
Whether you're looking for a quick breakfast, afternoon energy boost, or late-night snack, these banana blueberry oatmeal muffins are sure to do the trick! They're packed with wholesome ingredients like walnuts, oats, fruit, ground flax, almond butter and even veggies.
Get the Banana Blueberry Oatmeal Muffins recipe here
Easy Avocado Tartine with Lime
This fancy open-faced sandwich combines toasted bread with rich cream cheese, creamy avocado, everything bagel seasoning, and a squeeze of tart fresh lime juice.
Get the Easy Avocado Tartine with Lime recipe here
Bacon Egg and Cheese Oatmeal (Stovetop or Instant Pot Savory Oats)
This bacon egg and cheese oatmeal covers all of the food groups and will leave you feeling satisfied until lunch.
Get the Bacon Egg and Cheese Oatmeal (Stovetop or Instant Pot Savory Oats) recipe here
Peanut Butter and Jelly French Toast Casserole
This Peanut Butter and Jelly French Toast Casserole combines two comfort foods into one. Homemade blueberry jam and peanut butter sandwiches soak overnight in a delicious custard, then is baked to golden perfection.
Get the Peanut Butter and Jelly French Toast Casserole recipe here
Turkey & Veggie Baked Frittata Recipe
The combination of fresh basil, juicy tomatoes and rich eggs create a delicious dish packed with dynamic flavors.
Get the Turkey & Veggie Baked Frittata Recipe recipe here