Ready to make those magical moments with your kids even easier?
Introducing our Magical Motherhood Collection Printables!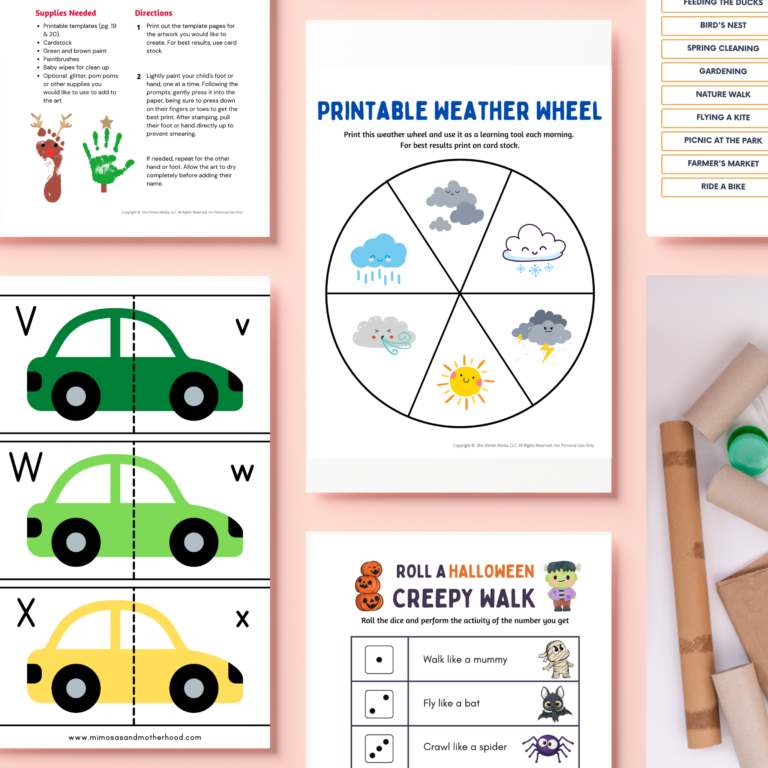 Get ready for the easiest way to make each month more magical for your little ones.
Are you feeling lost when it comes to planning easy crafts and activities for your kids? Does it feel overwhelming to come up with new ideas when you don't consider yourself a Pinterest mom?
You're not alone! The Magical Motherhood Collection was designed to help. Each month we provide a new, printable collection of 20+ pages of printables, activities, worksheets and easy crafts to help your childs' imagination and creativity take off (without completely stressing you out, too).
Imagine what it would be like if…
You could create beautiful works of art, help your child with fine and gross motor skills and learn new ideas without having to spend the time researching everything yourself
You didn't have to stress about coming up with a last minute activity when your little one is home sick or is trapped inside on a rainy day
You could make hours of imaginative fun possible every month, without adding one more thing to your already full load
With our monthly collections, you can!!
Raise your hand if you would love to be the "creative mom, but with WAAAY less stress
We've all got enough on our plate these days. Let me help! Each month I'll send you 20+ pages of seasonal crafts, worksheets, games and more that you can print at home!
Ready to join?
TWO OPTIONS TO CHOOSE FROM!
Save $36- It's like getting 3 months for free! Re-billed annually. Cancel anytime!
FREQUENTLY ASKED QUESTIONS
What is the Magical Motherhood Collection?
The Magical Motherhood Collection is a monthly digital membership subscription that delivers digital printable crafts, worksheets, games and more straight to your inbox.
How does the subscription work?
When you sign up for the Magical Motherhood Collection, you will receive a new collection of digital printables sent directly to your inbox each month. They can be downloaded and printed as many times as you like! No physical items will be mailed to you.
How much does the Magical Motherhood Collection cost?
The subscription costs just $8 per month, or $6 per month if you subscribe for the year! You are automatically billed each month on the date you subscribed and can cancel at any time. For example, if you signed up on October 12th your subscription would renew on November 12th, December 12th etc.
What kinds of designs are included?
Each month's bundle will include a variety of printable seasonal play activities, ideas and educational worksheets. Examples include seasonal crafts, printable games, fine motor skills worksheets, literacy development and early math.
I always have the best intentions for coming up with fun activities for my toddler, but I don't consider myself a crafty person. Holiday crafting or special occasions would stress me out so much, because most things I would find on Pinterest seemed too complicated for me. I am IN LOVE with the monthly printables that Siobhán sends. All I have to do is hit print! My daughter gets so excited every time a new collection comes out, and I love that we're able to create so many beautiful things together.